Unless you've been living under a rock for the past couple of years, there's no way you haven't heard of the Free Britney movement. In fact, you probably automatically associate the term "conservatorship" with Britney Spears by now. Whether you're fans of the Pop Princess or not, you ought to feel empathetic towards her as someone who hasn't been in control of her life for a really long time.
Personally, I love Britney Spears. I remember buying "Blackout" and "Circus" together just a few days before she dropped "Femme Fatale". Needless to say, I have been obsessed with her ever since. These probably weren't the most appropriate records to be listening to at 10 years old but it was a different time. From that point onwards, I'd listen to her entire discography on repeat, watch her videos and read her Wikipedia page to know more about her. I did come across the part about her conservatorship but I really didn't understand what it meant for her. In some ways, most of us didn't until more recently, when the Free Britney movement gained more traction than ever.
Free Britney Movement: Recap
ICYMI: It all started in around 2006-2007 when Britney was clearly going through a lot of things. Firstly, she had just filed for divorce from Kevin Federline. Soon afterwards, she lost her aunt, with whom she was reportedly very close, to ovarian cancer. About a month later, she booked herself at a drug rehabilitation facility, but checked out the next day. Next, she shaved her head, attacked a papparazi's car with an umbrella, and consequently booked herself at other facilities. If all of that wasn't enough, she lost physical custody of her sons with Federline just months after. Following a trip to the ER for what seemed to be substance abuse, the court rescinded her visitation rights and granted Federline sole legal and physical custody of their sons.
Consequently, Britney was placed under a conservatorship under her father, James "Jaime" Spears, and attorney, Andrew Wallet. This meant that they had complete legal authority over the personal, financial and legal aspects of her life. All of this took place during the time she released her albums, "Blackout" and "Circus", and embarked on The Circus Starring Britney Spears Tour, which became one of the highest-grossing tours of that year.
This recap and its aftermath are much more elaborated in this exposé written by Ronan Farrow and Jia Tolentino. The New Yorker article has investigated many of these claims in the wake of the Free Britney movement.
Role Of The Media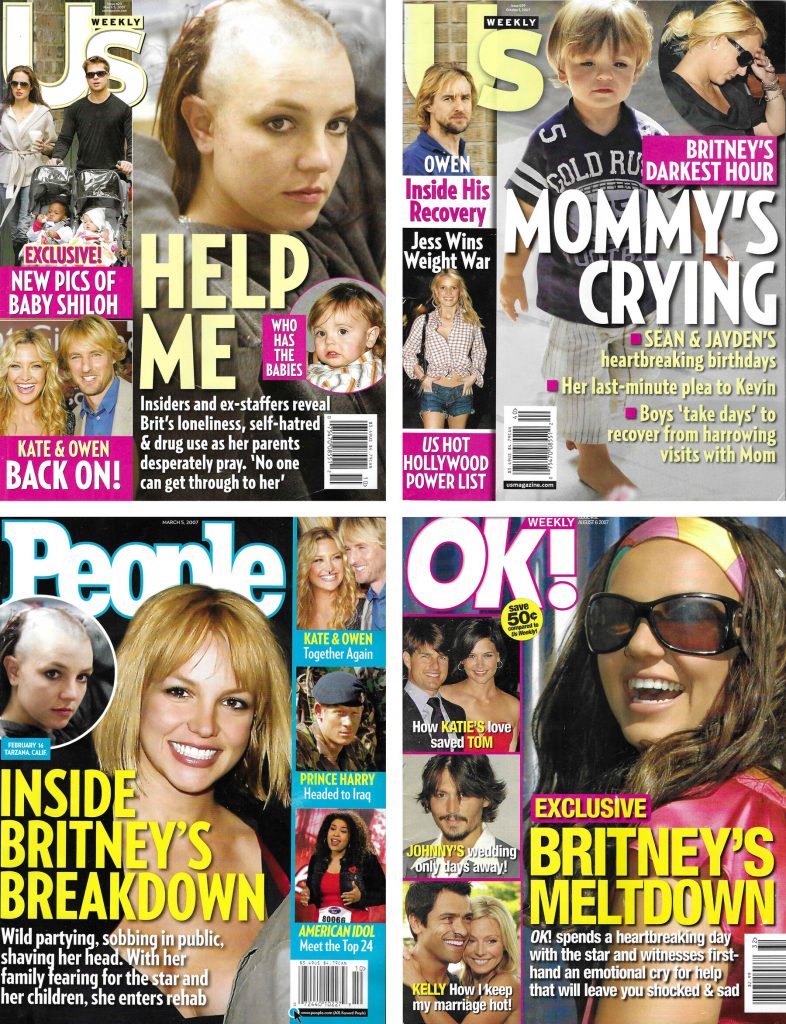 A child star. A teen pop sensation. A cover star for every rumour-spewing tabloid across the country. Sure, the conservatorship had nothing to do with the media. However, it did play a significant role in deteriorating her mental health.
Since the early days of her career, the paparazzi followed Britney wherever she went. Every tabloid you could find had her name and picture printed on its covers. With the most ridiculous taglines on her marriage, divorce, children, rehab stint and even weight, it wasn't just the magazines and newspapers. A lot of people also believe that the problem started way back when her career had just started. One such belief is that her iconic baby voice isn't real. Rather, it is a part of the image her management and record label preferred. Despite having a much deeper voice, they probably didn't want her to sound similar to Christina Aguilera, another rising star of the late '90s.
Documentaries have been dropping left and right showing the mistreatment she had been experiencing by the media. Perhaps the most recent one, "Framing Britney Spears", sparked the greatest outrage from fans and celebrities. Many of them demanded an apology from Diane Sawyer and Justin Timberlake for their role in it. However, as eye-opening as it may have been, it still didn't come from the singer herself. Everyone had their own narrative on something only Britney was dealing with.
Free Britney Movement: Today
While stan culture wasn't as prominent as it is today, fans were still very much invested in the lives of their favourite celebrities. Understandably, her fans were deeply concerned about her and a fan site began the Free Britney movement in 2009.
Even after a decade later in 2019, fans remained unconvinced about the effect the conservatorship had on Britney. You might have seen their efforts to uncover the truth all over Instagram and TikTok. One of the most common ones everyone keeps referring to is that one fan commented on a video of her dancing and asked her to wear yellow if she needs help. Coincidentally, she did post another video wearing yellow. Mostly tagged as "conspiracy theories", fans have compiled several of these instances, some of which you can watch below.
Despite everything being all bright and happy in the star's social media, we all now know that really isn't true. It reiterates the fact that nothing is ever real on social media. After her explosive testimony last month, the world got an insight on what has been going on this whole time. The conservatorship obviously controlled every aspect of her life but to what extent? She addressed the court on 25 June 2021, stating that the conservatorship was abusive. She compared her situation to that of sex trafficking – "Making anyone work against their will, taking all their possessions away — credit card, cash, phone, passport — and placing them in a home where they work with the people who live with them."
According to Britney herself:
The conservatorship prevents her from having her IUD removed despite her wanting to get married and having more children. She also stated that she's not allowed to meet her friends or have her boyfriend, Sam Asghari, drive her.
We all know what a huge success her Las Vegas residency was. However, she was only given an allowance of $2000 per week from its income. On the other hand, her father's salary as a conservator was around $16000 per month. Additionally, he received money for renting an office space as well as a cut from the singer's deals.
Allegedly, her management threatened to sue her if she refused to do a tour in 2018. In another instance, she was forced to go on stage and perform with a fever.
Her regular medication was switched to Lithium as her management allegedly made false claims that she was not cooperating and taking her medications.
We know how important it has been to take care of your mental health during the Coronavirus outbreak. However, it reportedly took a year for her to get any form of self-care during the pandemic. During this time, she wasn't allowed to get massages, acupuncture or even her nails done.
Read the whole transcript here.
Public Reaction
Support from fans and celebrities poured out following these revelations. Public figures such as Senator Elizabeth Warren and Senator Ted Cruz have also shown their support.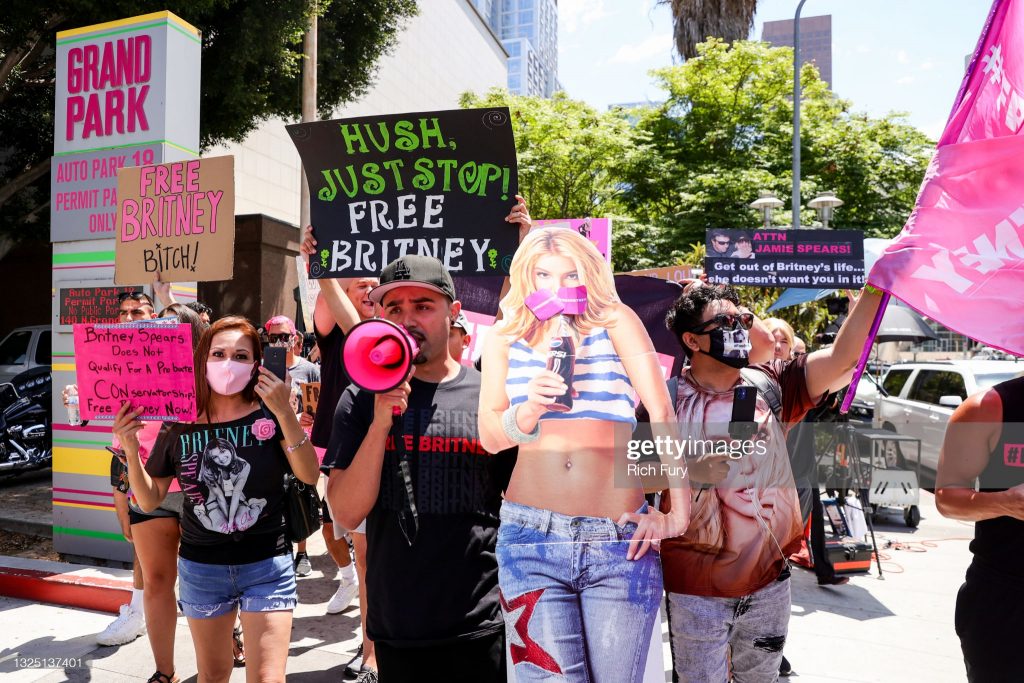 Celebrities such as Madonna, Christina Aguilera, Justin Timberlake, Mariah Carey, Halsey, Jesse Tyler Ferguson, Miley Cyrus, Ariana Grande, Brandy and more have taken to social media to voice their support. Additionally, Iggy Azalea also corroborated Britney's allegations against her father and management as she too was forced to sign an NDA just moments before a performance. She had previously collaborated with Britney on their single "Pretty Girls" in 2015.
#FreeBritney
As a result, several individuals and entities requested to resign. Samuel D. Ingham III, her court-appointed attorney since 2008, and Bessemer Trust, a wealth management firm that had been appointed co-conservator of the singer's estate, petitioned to resign which was accepted by the judge. It should be noted that this makes Jaime Spears the sole conservator of her finances. Larry Rudolph, Britney's longtime manager, has also resigned.
As she addressed the court for the second time on 14 July 2021, the judge granted her the right to choose her own attorney. Mathew S. Rosengart, a former federal prosecutor and entertainment lawyer, and his firm will now be representing the singer in this ongoing battle and have said to be soon submitting a petition for Jaime Spear's removal. Britney has also said that she wants to sue her father for conservatorship abuse and called for an investigation against him. Reportedly, she described her current living conditions as cruel, stating that she is not allowed to even have coffee. She also expressed her request for the conservatorship to end without having her to be evaluated or tested in any way.
Is There A Need For A Conservatorship?
All of this makes me question whether or not there is a need for a conservatorship in the first place. Whether or not it's necessary for someone else to be in control of every aspect of your life. According to US investigative journalist and co-author of the exposé Ronan Farrow, a court typically rules in favor of conservatorships for individuals who are not high functioning. However, for someone like Britney who has been performing all this time, that too, allegedly against her will at times, disability rights activists have called her case to be conservatorship abuse. (via BBC News)
In Britney's case, maybe it was best for her back in the late 00's. However, it's been 13 years and she's 39 now. Should she still have to go through the trauma the conservatorship put her through? Clearly, her conservators do not have her best interests at heart. I do hope Britney gets justice for the abuse she has suffered because of this. Hopefully, this won't be just another hashtag.
On another note, Britney herself has started using #FreeBritney!
What are your thoughts on #FreeBritney? Let us know in the comments and subscribe for more!