Seeing someone's work can be a source of inspiration and motivation. When you admire their work, it can drive you to pursue your passions. Being inspired by them can help you see new possibilities and set new goals. The dedication and hard work of others can be a source of inspiration to keep pushing forward. Observing someone's creativity and innovation can inspire new ideas and spark the imagination. The achievements of others can inspire us to believe in our own abilities and strive for greatness.
Being inspired by someone's work can help us break through limiting beliefs and find the courage to pursue our dreams. The success of others can inspire us to work harder and be more persistent in pursuing our goals. Seeing someone's passion and commitment can inspire us to find our purpose and pursue it with dedication. It can help us grow and evolve, both personally and professionally.
My love for Modern Dorji's work and dedication led me to know her whole story after following her for a while. Thanks to The Web capitals, I got a chance to interview her and learn more about how Modern Dorji came to be.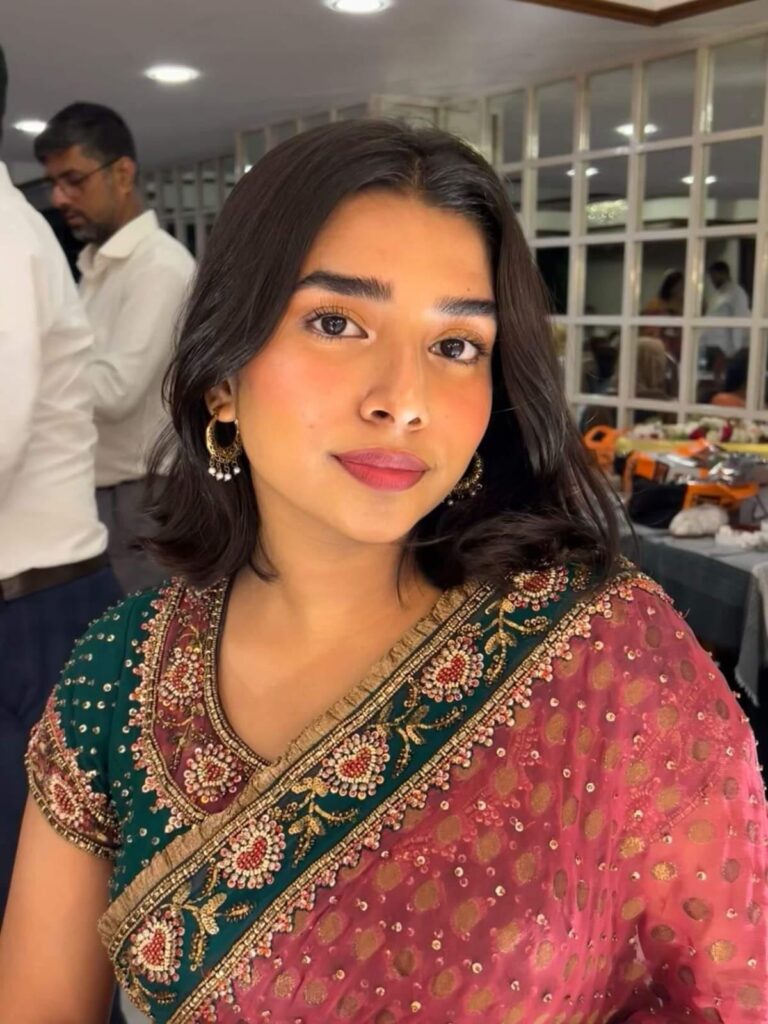 Syeda Humara Bushra is the mind and soul behind Modern Dorji. Bushra studied at Scholastica, Dhaka, and currently doing her undergraduate studies in Canadian business management. She masters the art of creative tailoring. Creative tailoring is not just about making clothes fit better, but also about making them stand out. You can create new looks from your existing wardrobe by experimenting with different materials, textures, and patterns. That is where she shines. It's worth all the hassle to see what she ends up with when she experiments with textures and different materials. Her expertise is that she can transform off-the-rack pieces into unique, one-of-a-kind outfits.
What is "fashion" according to you?
Bushra says," Fashion, to me, is something I will find comfort in. My style is different from the clothes I make at Modern Dorji. My go-to outfit is pairing a hoodie with sweatpants and using accessories to make it fashionable."
When asked about what sparked her interest in Fashion, she also shares, "I had no sense of Fashion in my early teens. It sparked when I started hanging out with friends who had a great sense of Fashion and makeup. I started growing an interest in fashion designers and their styles. I got to experiment with clothes and slowly discovered my taste."
Why the name "Modern Dorji", and what inspired you to create "Modern Dorji"?
" I didn't even think that much about this name. It just popped into my head. Well, I make 'not so traditional' clothing, hence 'modern.' And 'Dorji' because I think it sounds cool, hehe." She adds, "Just my urge to showcase my designs and creativity. I haven't seen anyone do something like 'modern Dorji, and I wanted to be the first one, and I'm delighted I did."
The stunning black prom dress.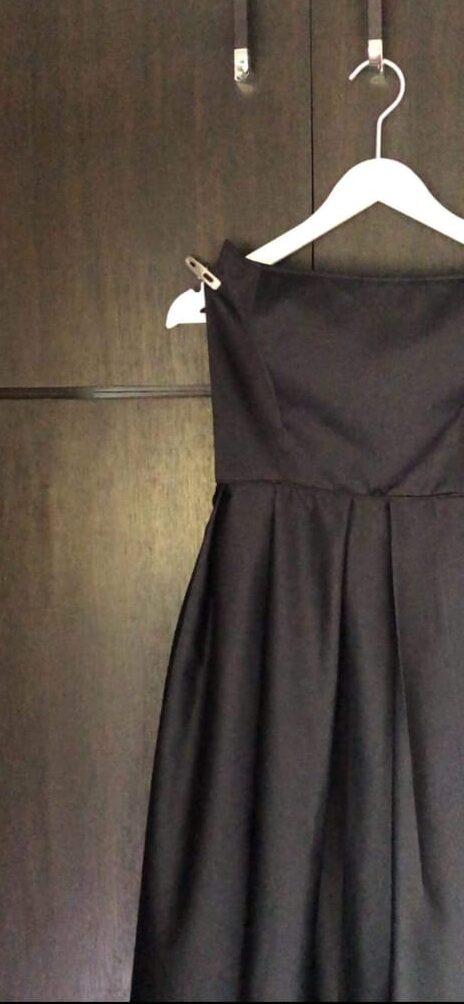 The black prom dress is a timeless piece that never goes out of style. It's a classic, elegant, and versatile piece that can be dressed up or down, making it the perfect choice for any occasion. The stunning black prom dress is a piece that will make any woman feel confident and beautiful.
The famous black prom dress by Modern Dorji is made from high-quality fabric. The fabric is luxurious and provides an elegant drape that adds to the overall beauty of the dress. Additionally, it is also soft and comfortable to wear, making it easy to dance the night away without any discomfort.
The design is simple and understated, focusing on clean lines and elegant details. This allows the dress to speak for itself and makes it easy to accessorize with statement jewellery or a bold clutch.
The stunning black prom dress is a versatile piece that can be worn for years. It's perfect for formal events, weddings, or other special occasions. It's a classic piece that will never go out of style and will always make the wearer feel confident and beautiful.
When and how did it all begin?
She replies," It was when the lockdown was initiated back in 2020, and my o level was cancelled, so I had all the time in the world. One of my favourite YouTubers, Micarah Tewers, made videos on how to make prom dresses at home. I took inspiration from it and took my dad's old t-shirt only to make a halter top out of it. I was proud of it at that time. And after that, I continued hand sewing. I saved up some money and purchased a sewing machine. A few days after that, I started 'modern dorji' on Instagram."
Pinterest is her best friend. She takes so much inspiration from there. Anything that catches her eye, she makes it.
How do you generally start a project?
She says, "I'm usually sluggish, but I get tons of requests from my followers. Most of the time, I make clothes that are trending at the moment. I also post polls on my stories to interact with my followers, and they give me excellent suggestions. If it's a dress, it'll take me three days. But tops would take me two days. However, it takes me a week for special occasions like my prom dress. I am self-taught. YouTube was the only platform I took help from. However, on august 2022, I enrolled on a fashion design course at Shanto Mariam, but I was there for only three months. I am now studying business management in Canada.
Her design process is straightforward in general. However, the task itself could be more manageable. She takes inspiration from something and draws it out in her sketchbook. And then, she drapes the design on her body since she doesn't have a dress form. She makes the patterns and cut the linings and outer shells, which is about it.
Gorgeous white lehenga set.
The gorgeous white lehenga set from Modern Dorji is a stunning and sophisticated choice for a formal event or celebration. White symbolizes purity, peace, and grace, making it a popular choice for bridal wear or other special occasions.
The lehenga, a full-fledged skirt that flares out from the waist, is paired with a short blouse, known as the choli, and a dupatta, a long scarf draped over the head and shoulders. The set is made of lavish fabric such as silk, satin, or chiffon and is adorned with intricate embroidery, sequins, and beadwork that highlights the beauty of the garment.
The beauty of this white lehenga set lies in its versatility. It can be dressed with statement jewellery and bold accessories for a grand occasion or paired with simple earrings and a minimalist clutch for a more understated look. The dupatta can also be styled differently, from a traditional drape over the head and shoulders to a more contemporary look with a half-tuck or even as a belt.
Top of Form
How do you choose your fabrics, and where are they sourced from?
She replies, "I don't know anything about fabrics. I either use georgette to make flowy dresses or cotton to make tops. I touch the fabrics and instantly know what I'll need."
We wanted to know more nitty-gritty bits. We asked her which has been the most challenging project so far and Which has been her favourite piece of clothing. She responded by saying that the lehenga which she made recently was the most complex and lengthiest project by far. She made many mistakes, which infuriated her greatly since she was on a time crunch. We can tell the frustration, but it was all worth it at the end of the day.
Her prom dress was her favourite to date. I mean, I must agree she looked STUNNING!!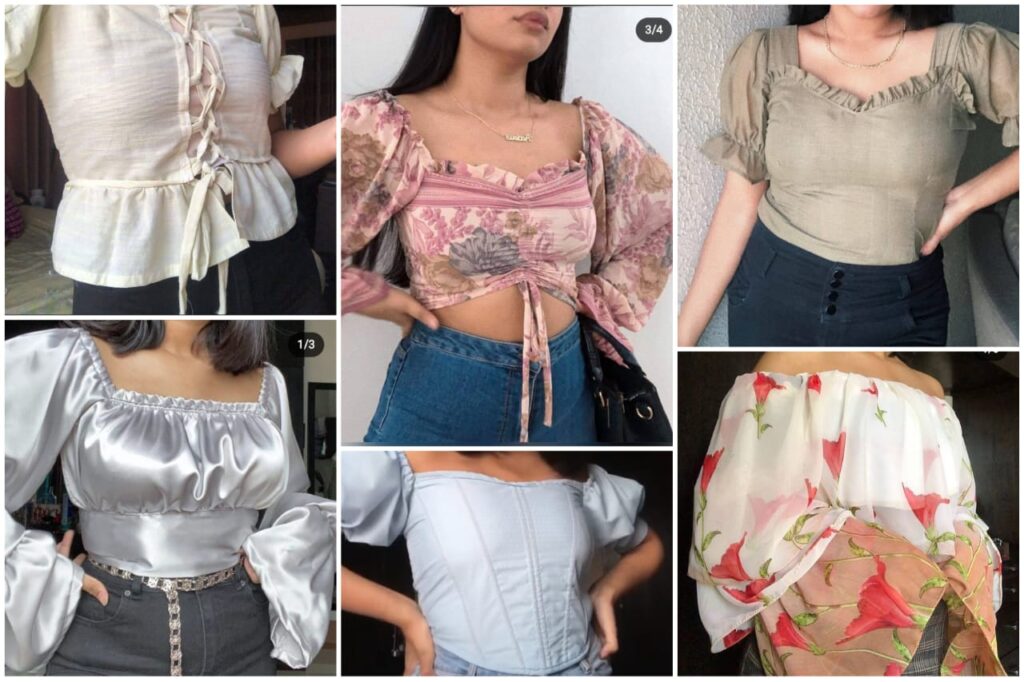 What are your plans for Modern Dorji in the future?
She dreams of having her label someday, and we wish her dreams would come true. She says, "At the moment, I want to finish my studies and go back home :(. HOWEVER, I DO PLAN ON MAKING CONTENT FROM CANADA. I brought all my supplies back home. I'll be starting very soon 🫶🏼" She adds she wants to pursue her career as a fashion designer someday. We can only wish the best for her.
How does it feel when you see people appreciating your work and talent?
She says," the best feeling ever! I never thought people would appreciate my work like this. They say they take inspiration from me and make their clothing as well! That is such a big compliment, and I'm super grateful for that."
We also asked her how she felt when she first saw a customer wearing her work which she replied, "I felt like my life was complete, and I had no other things to accomplish anymore."
Her biggest fear when going out and starting her line was If the top/dress didn't fit, which luckily never happened.
We wanted to know Bushra personally, so we asked miscellaneous questions to get an idea of her style. She finds sewing very refreshing, which is her favourite part of the design process.
We also asked her about her favourite fashion trends of 2022, and she said she likes cargo pants and is glad they are back. Cotton is her favourite fabric to work with because it does not fray. Her style is very minimal and basic. Anything that gives her comfort.
What is your favourite part about being a designer?
"I can express my creativity through my work." She says Ashley is her style icon. She says apart from Fashion; she likes experimenting with makeup too.
Elegant Corset Boning Blouse
Modern Dorji excels when it comes to crop tops and blouses. Every piece of clothing she makes is top-notch, from the sewing to the finishing. The corset boning blouse from Modern Dorji combines a corset's structure with a blouse's form and function. It features a fitted bodice with boning in the seams to create a flattering, hourglass silhouette. The blouse is made from various materials such as silk, satin, or lace and can be styled in many ways to suit the occasion. It can be dressed up or down and paired with skirts, pants, or even shorts. The addition of boning gives the blouse a supportive, shaping effect that can enhance the wearer's curves. Whether worn for a special event or as part of a casual outfit, this corset boning blouse is a versatile and stylish option.
What is the biggest lesson you have learned since starting your own label?
"Take suggestions from others and implement them in your work." She adds that one of the drawbacks of making clothes is having to make last-minute changes.
How well do you manage constructive criticism?
"I will handle it well, but I'll die inside". We all can relate to this.
When we asked her about any advice she wanted to give the upcoming entrepreneurs, she said, "Do NOT be afraid to start. Just do it. And give it time. It takes time for things to flourish, so never give up. She added, "I love every one of my followers, and they mean everything to me. I would not be here if it weren't for them."
Bushra's story inspired me a lot. Her hard work and dedication are truly inspiring; she has set a remarkable example for others. The amount of effort she put into her work is commendable. Her persistence and tireless effort are truly impressive. Her dedication to her craft is something to be proud of; it's evident in the quality of work she produces every time.
Follow her on Instagram for the latest updates! Stay connected with the Web Capitals for more!