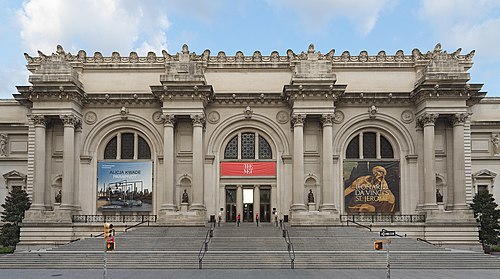 It's finally September and you know what that means, it's time for the Oscar-Superbowl equivalent of fashion. That's right, it's time for the Met Gala! After being cancelled due to the coronavirus pandemic in 2020, the Met Gala has been postponed to this month to celebrate American fashion. This year's theme is "In America: A Lexicon of Fashion". However, the event itself is likely to be much smaller in comparison to the extravagance of past events. It's only a few days away, so why not revisit some of the best Met Gala looks of all time?
What is the Met Gala?
If you don't know what it is, the Met Gala, or the Met Ball, is a star-studded affair. Formally referred to as the Costume Institute Gala or the Costume Institute Benefit, it is an annual fundraising gala held for the benefit of the Metropolitan Museum of Art's Costume Institute in New York City. (You know the "Met steps" Blair and her posse would hangout on in Gossip Girl? Yeah, that Met.)
Held on the first Monday in May annually, the gala follows a different theme each year. A-listers starting from Lady Gaga to Kim Kardashian are regular attendees. Newcomers such as Riverdale alums, Cole Sprouse, Camila Mendes and Lili Reinhart have also walked the red carpet. However, you won't know who will be in attendance before they hit the red carpet. Anna Wintour, Editor-in-Chief of Vogue and a chairwoman of the gala, oversees the benefit committee as well as the guest list herself, with the aid of Vogue staffers. Needless to say, you'd be lucky if you're considered for an invitation.
The gala is one of the biggest fundraisers of New York. Since introducing themes in 1973, it has been pivotal for designers to get exposure. This is because designers get to showcase their art in the exhibition and on the red carpet. Over the years, the number of guests have been between 650 to 700. Usually, the most relevant celebrities are invited including actors, musicians, designers and models. Individuals wanting to attend outside the official guest list have had to pay as much as $40000 for a ticket. Hence, such a hefty price makes sense to maintain the exclusivity of the event.
While the exclusivity of the event has been debated after the supposed seating arrangements, now proved to be fake, were leaked, showing TikTokers like Addison Rae and Emma Chamberlain in attendance, so many people convening for the event means getting to see so many looks. So, let's dive in and go through some of the best Met Gala looks of all time.
Best Met Gala Looks Of All Time
Gigi Hadid (2018)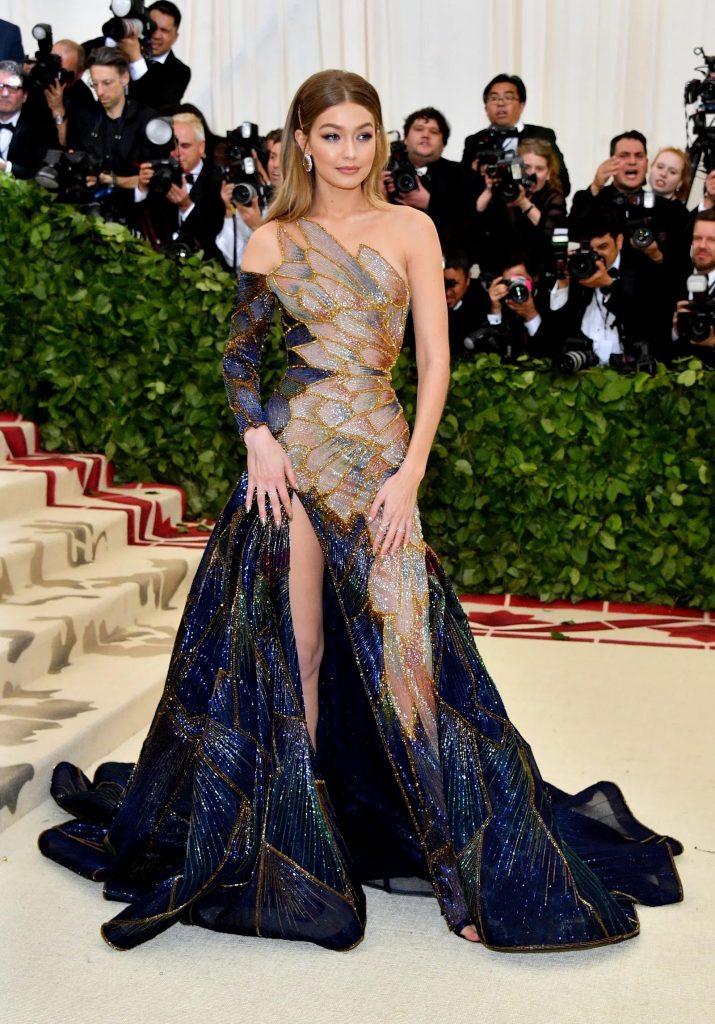 I think we can all collectively agree on the fact that if we're talking about the best Met gala looks of all time, this peacock stained glass dress must be included. Gigi Hadid looked breathtaking in Atelier Versace, Lorraine Schwartz jewelry and Christian Louboutin shoes for 2018's "Heavenly Bodies: Fashion and the Catholic Imagination".
All of these ensembles by Zac Posen (2019)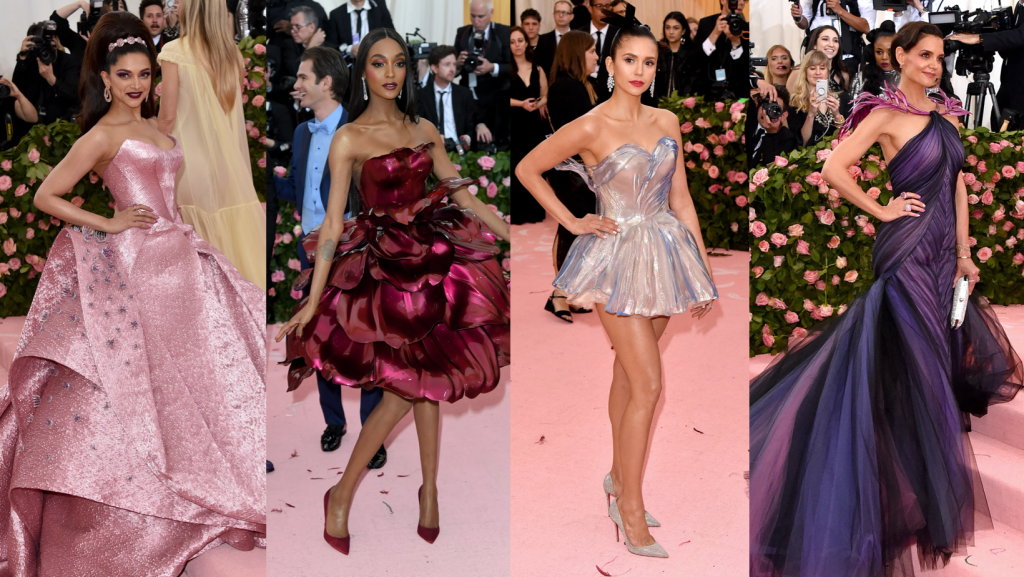 The label shut down business later that year but not before the designer got to showcase his high-tech creations on 11 celebrities which fit 2019's theme "Camp: Notes on Fashion" so well. Deepika Padukone, Jourdan Dunn, Nina Dobrev and Katie Holmes all dazzled in Zac Posen's ensembles made with the aid of 3D printers. Check out the video below to know more about how it came to be!
Blake Lively & Ryan Reynolds (2014)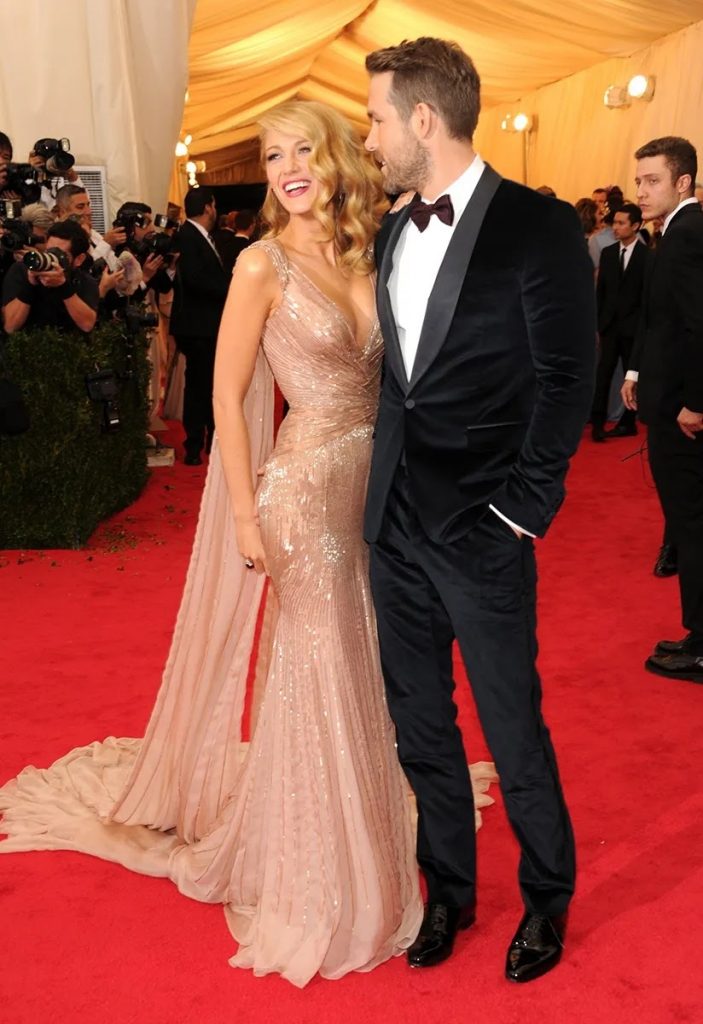 All eyes on this power couple. For 2014's "Charles James: Beyond Fashion" theme, Blake Lively wore a Gucci Première gown. This is just one of the many iconic looks she has had at the Met Gala over the years. Ryan Reynolds's ensemble was by Gucci as well.
Christy Turlington (1992)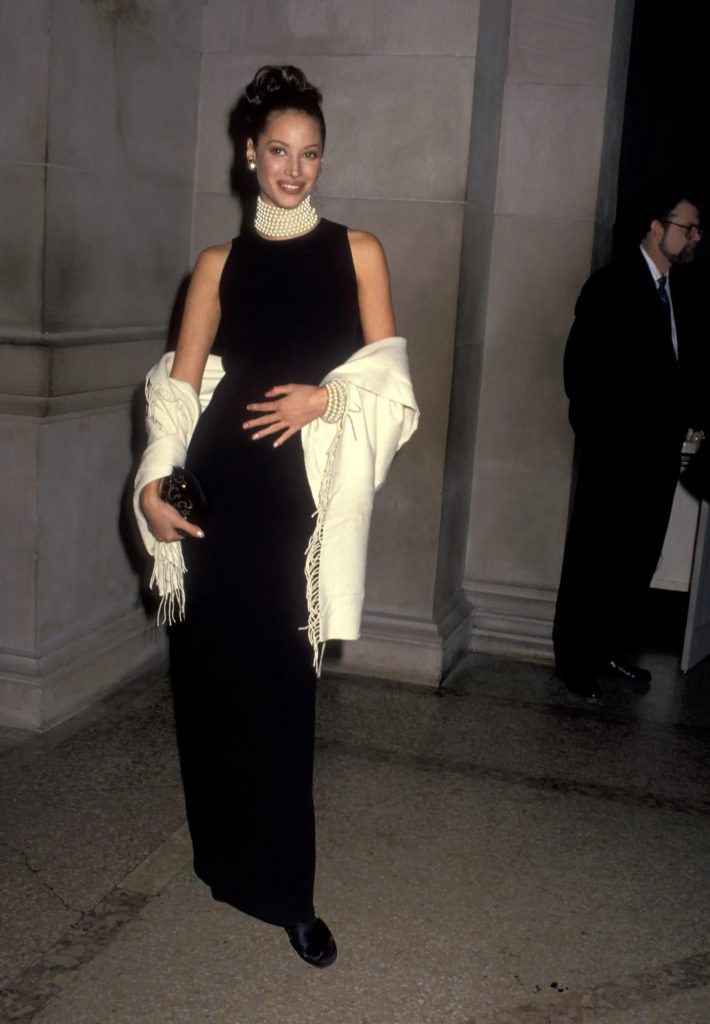 Christy Turlington's outfit for 1992's Met Gala is timeless. She channeled Audrey Hepburn's iconic Breakfast at Tiffany's look in a Givenchy dress, complete with a shawl and pearls. Seems fitting for the theme, "Fashion and History: A Dialogue".
Kim Kardashian West (2015)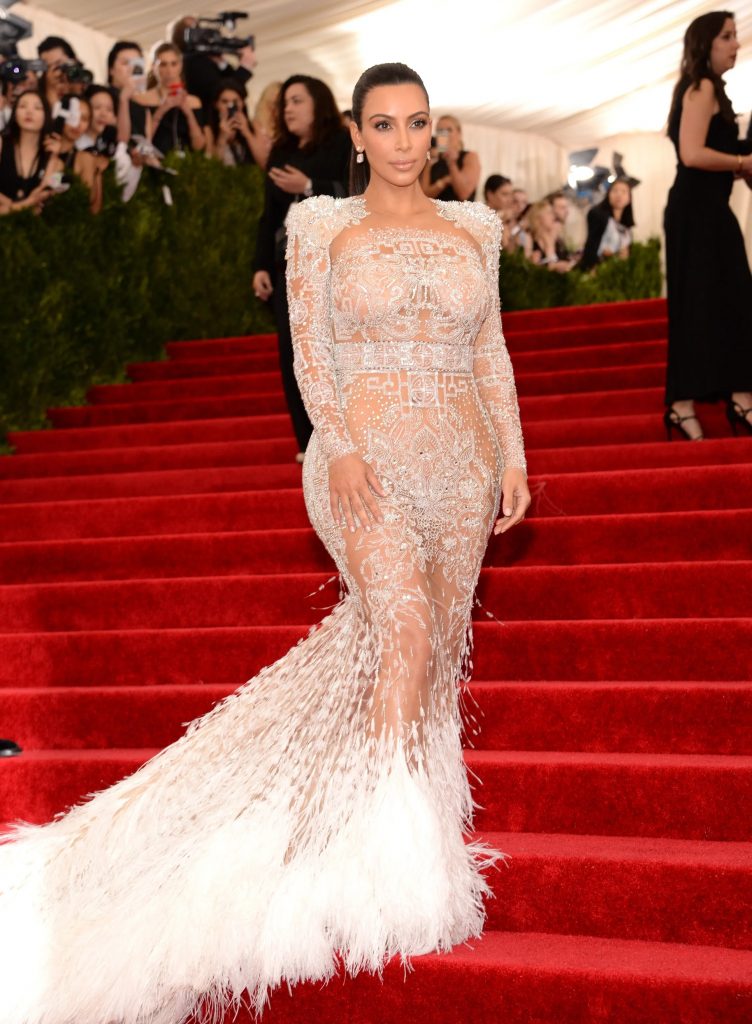 2015's theme of "China: Through the Looking Glass" commemorated the country's influence on Western fashion. Wearing a Roberto Cavalli dress and Lorraine Schwartz earrings, Kim Kardashian West stole the show.
Lady Gaga (2019)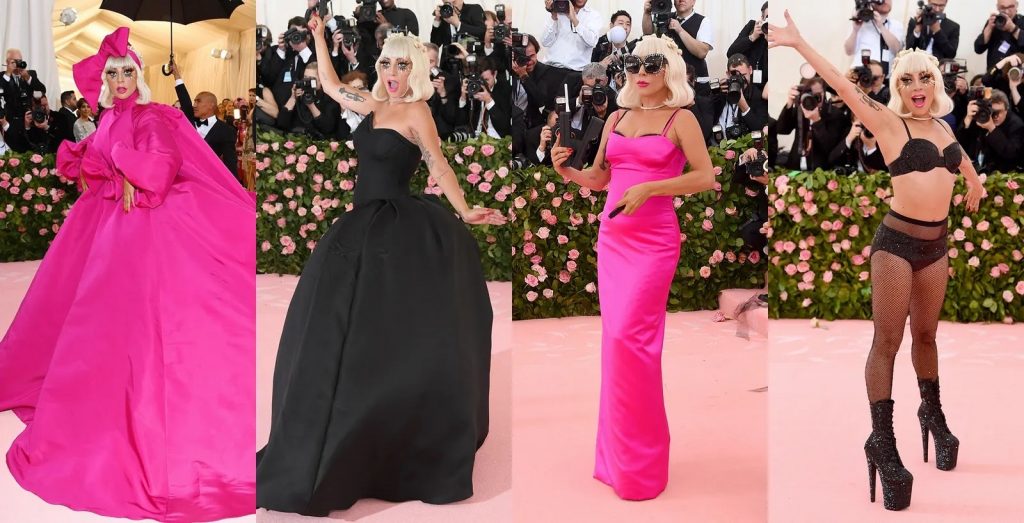 "Camp" was meant to showcase extravagance and Lady Gaga, who was also a co-chair of the event in 2019, put on a performance to do just that. After all, Mother Monster has been the epitome of camp even before it became a theme. Case in point: the red meat dress at the 2010 VMAs or the fact she showed up as an egg to the 2011 Grammys. Watch her entrance below!
Naomi Campbell (1995)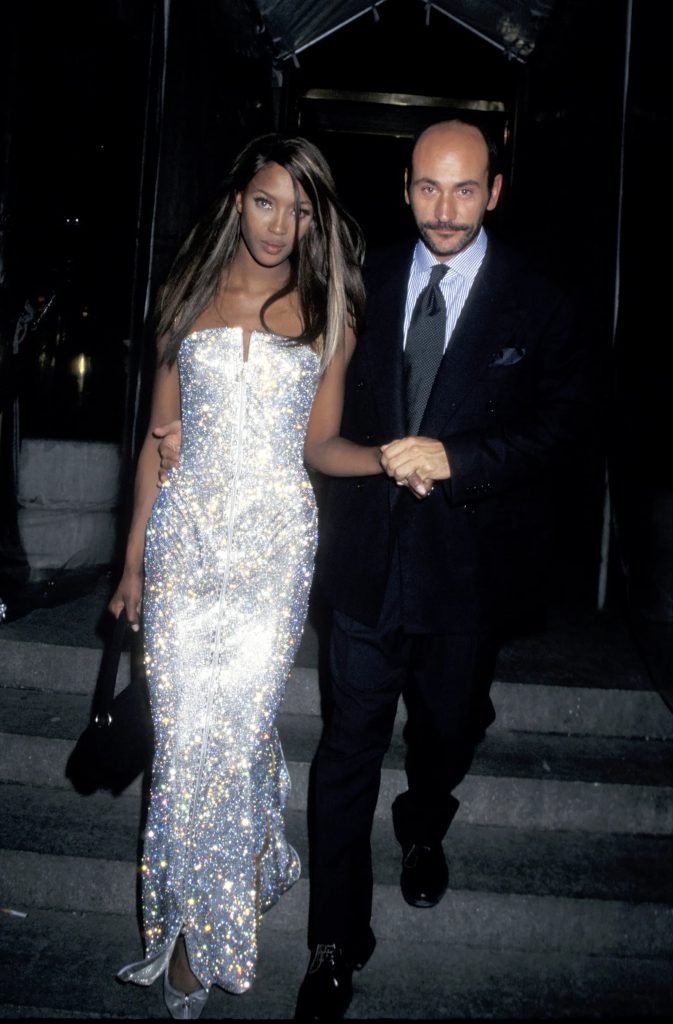 If you look up iconic looks from the 90's, you're likely to come across this picture of Naomi Campbell. For 1995's "Haute Couture" theme, the supermodel dazzled in this Versace dress.
Rihanna (2017, 2015)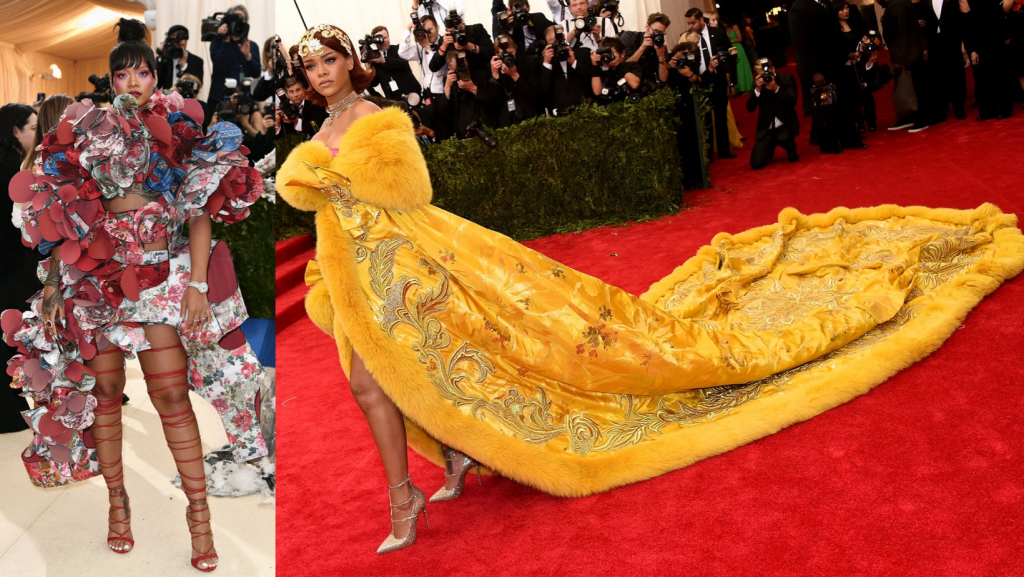 Rihanna isn't one to shy away from bold looks for the Met Gala. In 2017, the theme was "Rei Kawakubo/Comme des Garçons: Art of the In-Between" and the singer chose to wear a Comme des Garçons dress. She paired the look with Chopard jewelry and Dsquared2 shoes. This isn't the first time she opted to stay true to the entity being honoured by the theme. Back in 2015, for the event's "China: Through the Looking Glass" theme, the singer wore a canary-yellow piece by Guo Pei, a Chinese fashion designer. The cape took two years to make and required the help of about 4 people to carry it.
Kim Kardashian West & Kanye West (2016)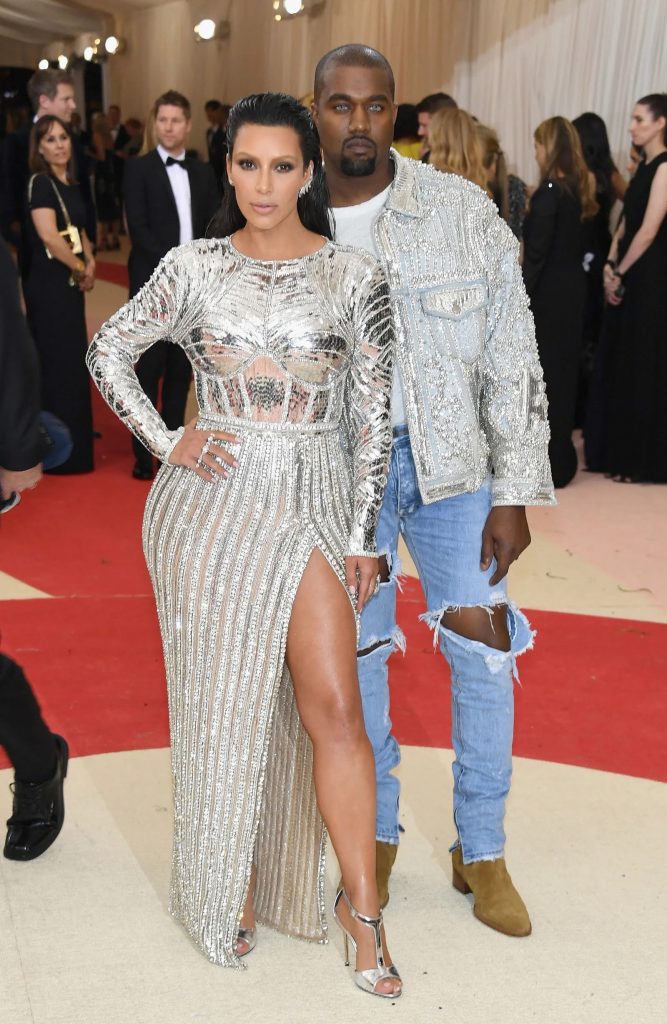 It wouldn't make sense to talk about the best Met Gala looks of all time but not mention Kimye. 2016's "Manus x Machina: Fashion in an Age of Technology" theme saw Kim Kardashian West in a Balmain dress and Lorraine Schwartz jewelry and Kanye West in Fear of God. Honestly, a lot of people were going crazy over Kanye's contacts back then.
These are our picks for the best Met Gala looks of all time! Let us know about your favorite Met ball looks and be sure to subscribe to our newsletter for more!