After a three-year break owing to the COVID-19 epidemic, the 10th edition of Dhaka Lit Fest, Bangladesh's most significant literary festival, opened on Thursday in Dhaka. At the Bangla Academy, an independent organisation supported by the Bangladeshi government to promote Bengali language, literature, and culture, Nobel laureate Abdulrazak Gurnah, Indian author and literary critic Amitav Ghosh, and State Minister for Cultural Affairs of Bangladesh KM Khalid served as the event's inaugural speakers.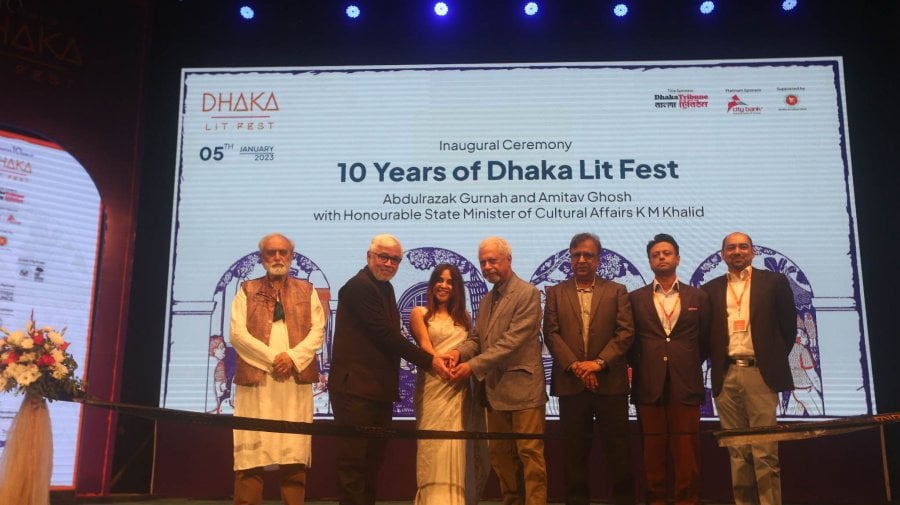 The Dhaka Lit Fest included discussions, dialogues, movie screenings, art exhibits, music performances, cultural performances, and much more. The Dhaka Lit Fest, also known as DLF, will feature a variety of discussions and debates, as well as sessions on science and technology, as well as children's and youth-oriented programmes, movie screenings, theatrical productions, musical performances, and cultural events.
Over 500 lecturers, artists, and thinkers from five continents will attend the four-day conference with 175 sessions. The COVID-19 epidemic caused a three-year suspension of the DLF. In November 2019, the 9th DLF took place.
The Dhaka Lit Fest (DLF) has been promoting Bangladeshi culture and literature to the globe ever since it began in 2011. The founders and colleagues have worked tirelessly to attract prominent literary figures to Bangladesh and give them a platform to share their expertise with the country's readers.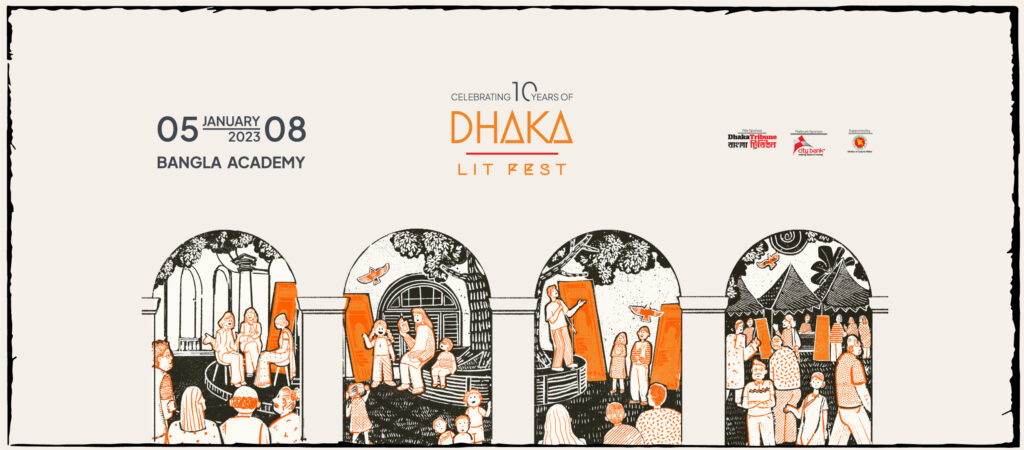 The Dhaka Lit Fest comes back this year following a three-year hiatus brought on by COVID. Despite adding an admission price this year, I saw that popularity and attendance remained the same. The festival included activities such as book readings, panel discussions, and writing workshops. It celebrated literature in all forms, including poetry, storytelling, fiction, non-fiction, drama, etc.
The well-attended five-day festival featured writers and artists from Bangladesh, Australia, England, Switzerland, and India, as well as other genres and cultures. Amit Ashraf, Amitabh Reza, Amitav Ghosh, Animes Roy, Armeen Musa, Asaduzzaman Noor, Kazi Amdadul Hoque, Azmeri Haque Badhon, Kishwar Chowdhury, Muhammed Zafar Iqbal, Nuhash Humayun, Runa Khan, and Munize Manzur were a few of the well-known names among them.
Every year, during Dhaka Lit Fest, many Bangladeshis and visitors congregate at the lush Bangla Academy grounds. Along the edges are food carts, pop-up artisan shops, and book kiosks. Such a setup appears advantageous for business owners to draw in clients.
How did regional publishers do at the 2023 Dhaka Lit Fest in this regard?
The event has been a spectacular success for companies like Cosmos Books. They often specialise in coffee table books with aesthetic appeal and relevance to, among other things, the arts, archaeology, architecture, travel, and photography. According to Ali Sina, Cosmos' Business Development Manager, "Because our books are often rather costly, our target group is frequently located there. These events help us attract a respectable number of clients. Except for a few loyal consumers, not everyone is interested in spending money on such publications."
Famous lecturer, author, and editor Niaz Zaman from Writers. Ink offers another viewpoint on the muted reception certain publishers got. "Most people throng to bookstores like Bookworm Bangladesh that sell well-known books, particularly ones from outside. They are less interested in purchasing from regional publishers, "she declared.
Nazneen Haque explains how the event might easily fit certain low-budget regional publishers "We couldn't afford to pay 30,000 BDT for a stand for four days. It would have made sense if the event had occurred at a five-star hotel like the Radisson. Bangla Academy, however, is public property. Therefore charging so much makes us go more slowly. Furthermore, each book is produced and sold by one of four to five teams. The cost already includes printing, designing, and editing."
This viewpoint resonates with the puzzle surrounding the concept of monetising literature in a nation like Bangladesh, where the wealthy have comparatively more significant opportunities to enjoy the arts sector. On the one hand, the fees put pressure on the finances of tiny local publishers. On the other hand, in the middle of a worldwide economic crisis, a prestigious literature festival can only financially support itself if it commercialises some components.
Dhaka Lit Fest's Panel:
A panel titled "Culture Wars," moderated by acclaimed author and photographer Ranbir Sidhu, brought together Sarah Churchwell, Nilanjana S Roy and Vivek Menezes to discuss how censorship. The panel's goal was to debate whether excluding particular writers from particular settings promotes anti-discrimination efforts or creates a new type of censorship. The moderator's initial question focused on defining the differences between censorship supported by the government and censorship from social pressure and public opinion. How would one defend that?
Professor Sarah Churchwell stated, "They use these pretexts to dominate the conversations", bringing up the transformative effects of new technologies, the Trump administration, and the events that happened on the January 6 uprising in which Trump supporters broke into the US Capitol as Joe Biden was declared the winner of the 2020 presidential election.
It concerns internal censorship that Indian authors endure today, according to journalist and author Nilanjana S. Roy. She discussed the present condition of free expression in the nation and highlighted the stories of editor and writer coworkers who had been subject to several lawsuits, which she referred to as "second prisons" which had forced them to cease producing work.
The Bangla Academy closed the 10th edition of Dhaka Lit Fest, which included a diverse spectrum of the world's finest authors, filmmakers, singers, and artists, reaffirming its commitment to supporting Bangladeshi literature, culture, and arts.
Closing Festival
On Sunday, the festival closed with an entertaining closing ceremony that featured performances by Coke Studio Bangla artists Animes Roy, Ritu Raj, Pantha Kanai, Boga Taleb, Momotaz, Rubayat Rehman, and others. The 10th edition of the literary festival concludes with 'Nasek Nasek,' Coke Studio's breakthrough hit in Bangladesh.
Before that, the ceremonial closing act was held at the Abdul Karim Sahitya Bisharad (AKSB) theatre. It began with a dramatic dance and recital performance by Jatrik entitled "Women Rise" about women's freedom.'The performance of traditional and modern dance styles, with recitals by DLF director-producer, highlighted adversity and tenacity against women in the Indian subcontinent.Nuruddin Farah remarked. I've been to numerous events worldwide, and I'll tell my friends how the organisers and everyone here at the Dhaka Lit Fest made me feel welcome."
The 10th edition of Dhaka Lit Fest, held from January 5-8, features over 170 sessions of informative and engaging dialogues and cultural segments with over 500 writers, poets, performers, intellectuals, journalists, athletes, social workers, and globally acclaimed-celebrated personalities, including the winners of the Academy Awards, Pulitzer, International Booker, Neustadt International, and PEN/Pinter prizes, Prix Médicis, Windham-Campbell Prize, Albert Medal, Waters Medal, This year's DLF began with significant trepidation, with ticket prices casting doubt on how many people will attend.
Despite some communication hiccups, such as changes in session times or authors such as Orhan Pamuk and Hanif Kureishi not attending the festival, the inventiveness with which DLF 2023 was curated demonstrated how stories span not just literature and art but science, technology, business, climate change, music, sports, culinary arts, and more.
Stay tuned for more updates from the Web Capitals!