Girl, now you can also rock all the red lip looks with your OOTD! "If you want to hide it, just paint it red", (hmmm…thinking of what can't a red lip not hide!) A tiresome day? Sleep deprivation? Lack of confidence? You name it. In other words, a red lip can instil boldness, confidence, youthfulness, cheerfulness and immediately create an eye-catchy aura. From casual wear to fancy dresses, from partywear to professional outfits, red has a perfect shade for every day-to-day activity. And that's why a red lip has been the ultimate, and sometimes, the only makeup regime for many. Even congresswoman Alexandria Ocasio-Cortez has her signature red lip look that we've seen her wear during the congress sessions.
Understanding The Undertones
We identify the undertones as warm, cool, and neutral. Undertones are the hidden colours under the skin or the surface of any colourful object. People with warm undertones have green pigments underneath their skin. On the other hand, people with cool undertones have blue pigments that we can not see. Have you ever noticed how a shade of red looks amazing on someone of your skin tone but doesn't suit you? Well, that's because of your undertones. If you know your undertone, we advise you to wear outfits with the same undertone to look better overall. It also applies while choosing the shade of red lipstick so that, it complements your dress and of course, your skin! If you are unaware of your undertone, then click here for methods to identify.
Every shade of red has a different message, just as they have different hues and tints. For red lipsticks, shades are more than just the brightness or the darkness of the colour, or its intensity. To identify the perfect shade of red lipstick for your outfit with minimum effort, we have grouped them as follows:
The Royal Shades: Barn red, Blood red, Venetian red, Carnelian red, Carmine red, Ruby red, Maroon red, Chocolate cosmos – these imperial shades with darker hues fall under the royal spectrum with warm and cool undertones. To outshine in a dinner party, or look elegant in any special event, make sure to apply a royal red shade.
The Pastel Shades: Indian red, Turkey Red, Tomato Red, Pastel red, Auburn red, Cinnabar fall under the pastel shades with neutral undertones. Pastel reds are best for the cosy afternoon outings wearing an outfit having neutral undertone.
The Matte Shades: Cornelli red, Flame red, Cardinal red, Fire engine red, Cherry red, Chilli red, Rose red, Crimson red, Terracotta red – these are some of the rusty matte shades. These shades can make any look appear great, let it be for a professional setting or any other social situation.
The Neon Shades: Bright reds or luminous bright reds like Scarlet Red, Candy apple red, Carmine red, Coquelicot red are the neon shades with warm undertones. These preppy shades are the best for parties with friends, fun night hangouts, or whenever you need a pop of colour on your face.
Iconic Red Lip Looks On The Silver Screen
From the 1930s till today, red lips have always been a part of cinematic glam-up. We are talking about the times when people recognised the actors by their signature shade of red. Whatever the colour of the outfit, a red lip was a must. Throughout these decades, the silver screen personalities taught us the red lip looks that can never fail. Below are some of the red lip looks that inspired millions!
Red lips with dark/ bright red attire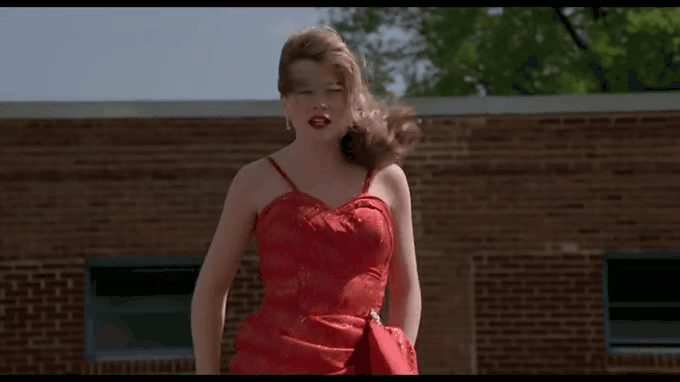 Amy Locane, as Allison in Cry Baby (1990) looked ravishing in that side-knotted flattering red dress and bright red lips. It is indeed the most jaw-dropping combination that one needs sheer boldness to pull off. We also saw Emilia Clarke pull off red on red in Me Before You (2016), where she wore an elegant red dress for a party with dark red lips. There isn't any combination as much head-turning as this one.
Red lips with black attire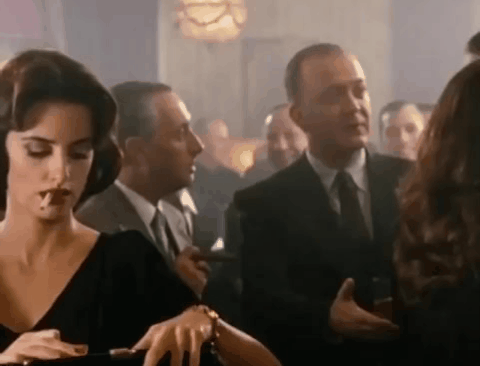 A black dress with a red lip can never go out of fashion. This regal combination can enhance your look under any situation and give you the spark that you need. Penélope Cruz looked stunning in this scene from the film A Matador's Mistress (2008). Blood red lips, black dress and short hair, her look reminds us of Monica Bellucci from the movie Malena (2000), where she's a similar look, with a matte red lip.
Red lips with white attire
Red lips and a soothing white outfit is a classic combination. In Gone With The Wind (1939), Vivien Leigh, as Scarlett wears different shades of red throughout the movie, which in fact, complement all the vintage gowns. However, her look with the baby-collar white dress and red lips stands out the most.
Red lips with yellow attire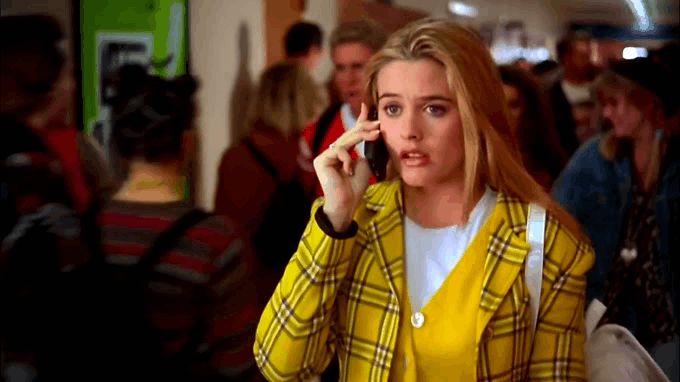 The combination of vibrant yellow with a mild shock of red creates a statement instantly and gives you an edgy look. Apart from the "Ugh! As if!" Alicia Silverstone as Cher in Clueless (1995), captured the screen space with all her outfits and a shade of red on lips that complements. Here, we see her in a yellow uniform, which catches the eyes the most amongst all her outfits with pastel red lips. Talking about yellow outfits, remember Emma Stone in a short yellow dress and bright red lips in La La Land? She looked simple yet, mesmerizing.
Red lips with emerald green attire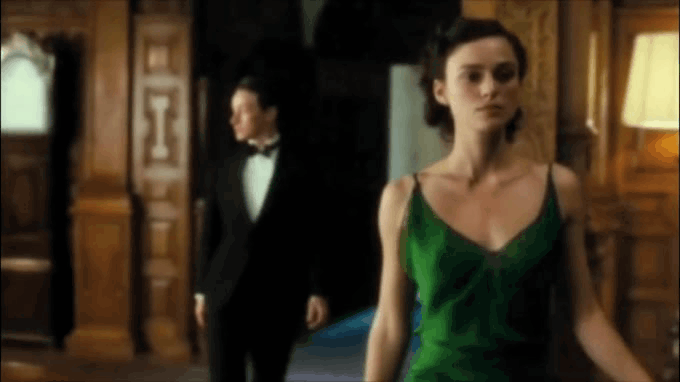 Getting back to yet another awe-inspiring look of Hollywood from the movie Atonement (2007). Fans still cannot forget Keira Knightley in that vintage emerald green dress with bold red lips. We rarely see this combination in movies although, it personifies elegance, royalty, and grabs the eyes effortlessly. In Gone With The Wind (1939), we've seen Vivien Leigh as Scarlett O'Hara in an emerald green vintage gown and matte red lips.
Red lips with brown attire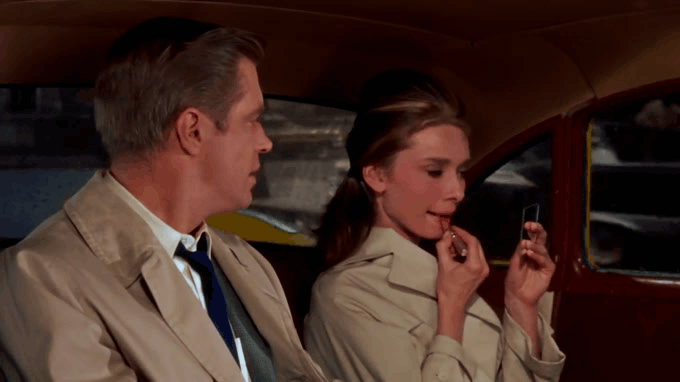 Brown, being a neutral shade when paired with a royal or pastel red, can manifest sophistication in your look. Audrey Hepburn in a brown overcoat and a shade of red in her lips from the 1961 movie Breakfast At Tiffany's, created quite a statement. Even now, we see Instagram and Pinterest fashion posts inspired by it.
Red lips with baby blue attire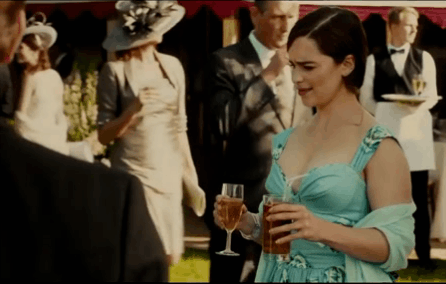 Emilia Clarke's look in this baby blue low-neck dress and a royal red shade on her lips from the movie Me Before You (2016) is unforgettable. She looked like a princess in this scene with a softness in her aura. Nonetheless, she looked oh-so-amazing on-screen.
Most often, the combination of a striking red lip and the darker shades of green outfit can be a fashion fail. Since the colours are dominant, due to the contrast of undertones, you may look dull. Similarly, red lips don't complement darker shades of blue either. A red lip with a purple outfit is yet another fashion misfit that looks unflattering to the eyes. (Unless you are Marilyn Monroe! She rocked every outfit with her signature bold ruby lips, which in fact, demands a separate article.)
However, you have all the right to play with colour combinations if that makes you feel better. Red is the colour of strong emotions, and you have the authority to wear it whatever the way you want.