'From Dacca' is upgrading the trend by combining old indigenous patterns with the best street fashion as luxury clothing. Bangladesh has long been regarded as the epitome of handicraft and textile history. While this may be positive, time-honoured traditions and artisans are in danger of extinction. "From Dacca" illuminated a unique technique for fusing traditional and modern styles. The new enterprise had struck gold with the release of their block print and Nakshi Katha embroidered sweatshirts.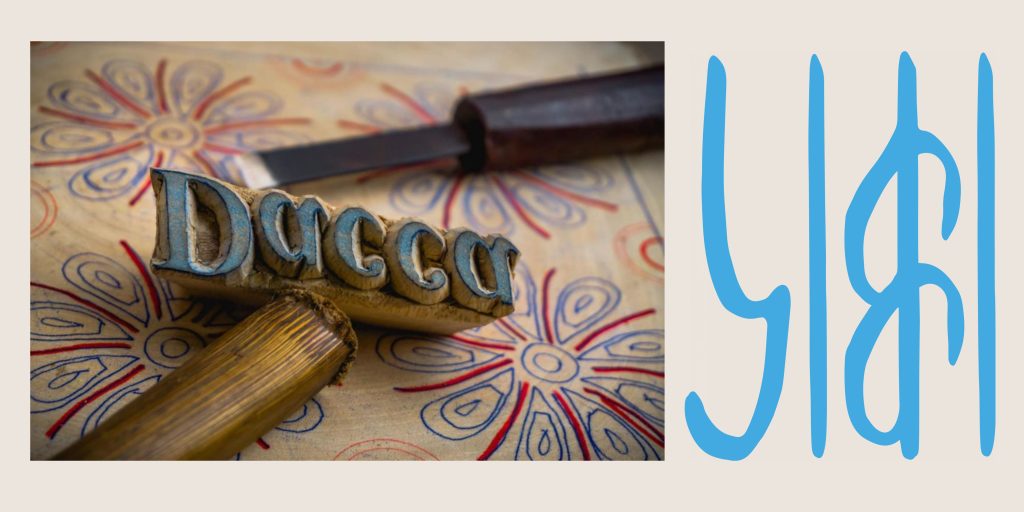 The Masterminds: From Dacca Elevating Street Fashion
Jobayed Uddin and Mahfuzul Karim, the venture's early initiators, came up with the concept of From Dacca which was later joined by Tameem Sultan. The concept arose from combining historical patterns with street fashion that would appeal to young people.
Dacca, the old name of the capital city, Dhaka, was renamed with the arrival of colonists, who saw Dacca as a location of wealth. Jobayed stated, "We wanted to embody that perception with street fashion." We couldn't name it after the city, so we called it 'From Dacca.'"
Months before the business started, the two childhood friends conducted their research to match their objectives. "I had no idea how deep this was until I did my research." We have a plethora of textile arts, but Bangladesh is solely known for its cheap labour. "We wanted to change that," Jobayed explained.
It was much more challenging than it appeared. "We did find many artisans," Jobayed added, "but it was difficult to get direct access to them." While they gained entry, it was time to persuade them to work with From Dacca. Initially, the plan was to conduct embroidered work on sweatshirts. They discovered that direct stitching on a sweatshirt did not look well after multiple samples, so they had to innovate. They returned to look for artists who could create unique block patterns. The difficulty of producing a flawless final product does not end here. The crew had to experiment with the threads as well.
Examining The Finest Raw Materials Into Their Production:
They conducted tests on both buli and reshmi shuta (threads ). Buli shuta is simpler to deal with since it is thicker. As a result, the merchants always required labourers to work with buli shuta. Reshmi shuta, on the other hand, is incredibly thin and features elaborate decorations. Because artisans were accustomed to working with the previous threads, they had lost contact with reshmi shuta. Finally, the team created the final prototype after locating personnel who consented to resume working with Reshmi Shuta. From gathering sweatshirts from clothing to creating and printing block designs on textiles and arranging them on shirts with exquisite embroidered motifs, From Dacca was eventually ready to release a sigh of satisfaction and debut.
Conglomerating From Dacca To The World: Street Fashion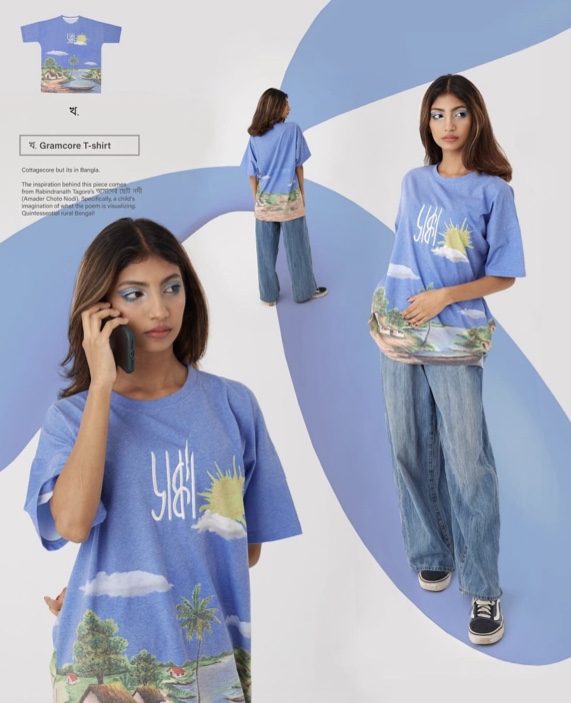 Bangladesh has a rich history of craftsmanship, and the skill of its textile artists has few equals. Natural dyes, block printing, handloom textiles, hand embroideries — these techniques are practised at the highest level in Bangladesh. Not to mention the weaving arts like Benarashi, Jamdani, and the long-lost Dhakai Muslin.
From Dacca is an experimental clothing line attempting to decontextualize Bangladeshi apparel artisanship and urban fashion simultaneously. Dacca aims to employ textile artisans around the country to put forth their art of making clothes. The artisans whose works were marginalized due to rapid industrialization. 'From Dacca' wants to inspire and share the stories of the people they will be working with. Putting life into each work, you will be aware of the emotions and love behind a piece of cloth. From Dacca wants to push for a more indigenous design approach, including textile artisans, Bengali art, and culture. Through contemporary streetwear, a medium spearheading the fashion world, they want to preach their message of the conservation of local arts, artisanship, and culture of Bangladesh.
What is From Dacca's ten-year plan for their brand?
"From Dacca" wants to have a more significant influence on street-style clothing. They want to encourage aspiring designers and businesspeople to concentrate on indigenous design approaches and to expand such concepts in a broader context.
From Dacca Is An Unique Brand; All About Paying Fare Wages, Sustainability & Reducing Carbon Footprint
They source, manufacture, and package with the highest care and attention to detail. From Dacca believes that the twenty-first century will be defined by organic enterprises, the condemnation of overconsumption, minimalism, and careful consumption. As a result, they strive to eliminate waste in their manufacturing process while simultaneously reducing their carbon impact. From Dacca, they hope to share stories from rural Bengal artisans with the audience. FromDacca presents you with a rarely spoken perspective in the fashion world: that of the fabric producer. The fashion industry appears glamorous and shiny, but the lower your supply chain, the grimmer it becomes. Their clothing is not grown; they are manufactured with human work. A truth that is frequently overlooked by the industry's alleged grandeur.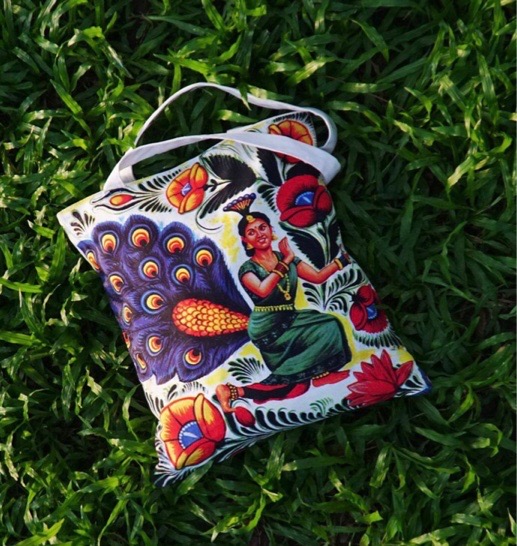 Rickshaw art is a type of neo-romanticism gaining popularity in the Indian subcontinent. Rickshaw art in Bangladesh dated back to the 1950s and peaked in the late 1980s. The rectangular tin sheet used at the back of rickshaws to represent the painter's taste and creative talents is the most intriguing feature of rickshaw painting.
Rickshaws can be customized to display specific religious or political convictions and commentary on current events which makes them more unique. Rickshaw painting was, in some ways, a way of expressing oneself for both the rickshaw-puller and the owner. Decorating a rickshaw was a sign of elegance in a different Dhaka during the 1960s and 1970s. Each new rickshaw design was popular, and consumers chose to ride in the best-decorated rickshaws. Decorating rickshaws isn't as fashionable in modern-day Dhaka as it formerly was. More than 25 years ago, the final rickshaw painting workshops shuttered. Although the art form is still alive and well, it has difficulty finding new grounds. The remaining painters rely on foreign tourists looking for hand-painted souvenirs and increasingly infrequent exhibitions.
"Boishakh 1429" Series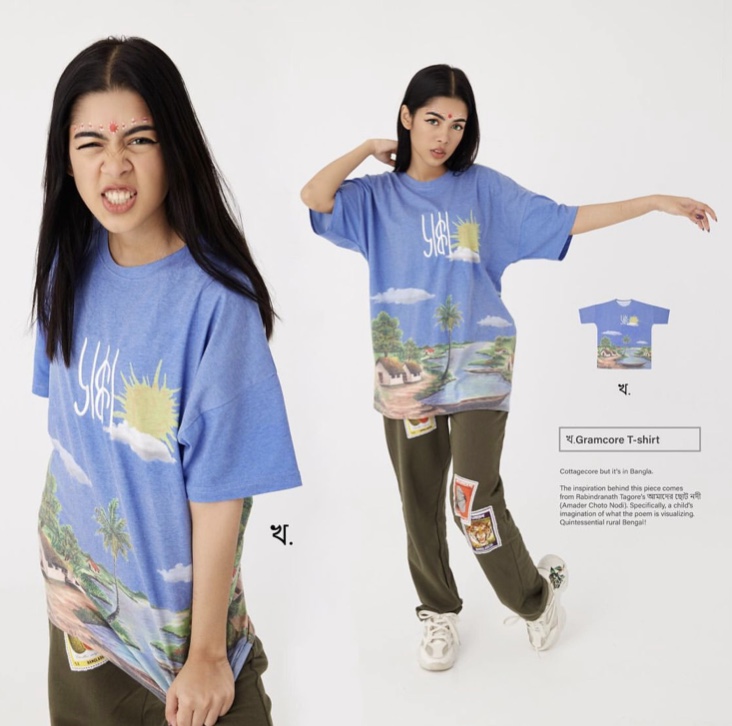 From Dacca collaborated with several rickshaw artists on its "Boishakh 1429" series. They emphasize fair trade practices in their dealings with artists, artisans, and craftspeople, and they hope to make a beneficial impact on this magnificent art form. Check out their beautiful Rickshaw paint tote bags, which will elevate your whole look and be your go-to tote bag!
Get your hands on the distinctive craftsmanship of their bespoke clothing, starting from Handcrafted Shirts, Hemen Majumder Khadi T-shirts, Baisakh 1429, Tote Bags '22, Cargo Pants, KIMONO, KHADI T'S, MASKS, etc. Every season, they will present new designs. Stay tuned through their socials and make the most of their stunning collections, which are revealed every season.
Website: https://fromdacca.com/
Facebook: https://www.facebook.com/fromdacca
Instagram: https://www.instagram.com/fromdacca/
Browse more from our fashion-based niche and send us your suggestions!