Are you getting tired & frustrated with the unreliable parlour services at your all-time visited salon? Worried that trying the newly hyped parlours might not be under your budget or might not satisfy you properly? Well, we have come up with the solution just for you because Glam by Asmita (GBA) is the powerhouse when it comes to developing that deep sense of beauty and glam in the current beauty salon's niche and has the best team of professionals trained by world-renowned makeup institutes and also by the CEO of Glam by Asmita, Mayesha Asmita.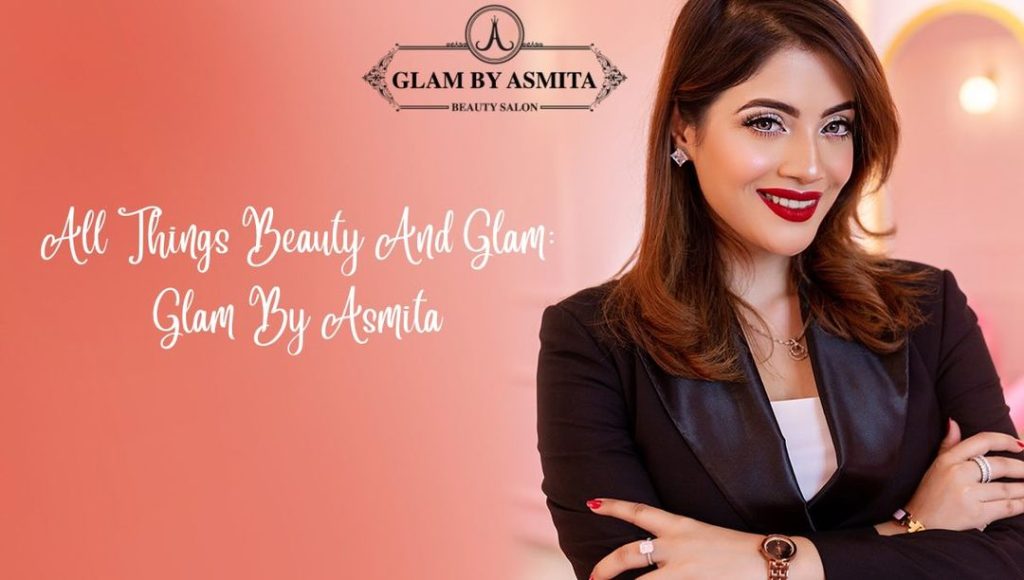 This boss lady's passion for makeup started from that very teenage days, she went through years of bullying at her school due to being overweight & acne issues which made her use makeup as a tool, and she is glad that this helped her to understand a lot about makeup eventually. She worked towards her favourite hobby & passion in this particular niche of beauty and glam. While pursuing her undergraduate degree from the UK in International Business, she convinced her parents to allow her to follow her passion with her studies. Hence she enrolled in a world-renowned makeup school where she learned from masters such as Tom Ford, Dior, Charlotte Tilbury, and Mac, among others. She received honours in makeup artistry courses and a first-class undergraduate degree. During her vacations, she frequently enrolled in various classes to learn about brows, lashes, and nails. She returned to Bangladesh and opened a small home studio where she took bridal bookings by appointment. After six months, she decided to open Glam By Asmita beauty salon in Gulshan-1.
She progressed from a 100-square-foot home studio to a 900-square-foot salon in the heart of Dhaka City. She expanded once more in less than six months, opening her new approximately 3500 sqft salon in Gulshan 2. Glam by Asmita has been blessed with an overwhelming response, and they are constantly overbooked for services. Glam By Asmita is a dream come true for a girl who took a step against all odds and made a dream into reality.
Are You Ready For Some Self-Care? All About Glam And Beauty
If you want to take a day off from your hectic schedule to unwind and pamper yourself with fantastic service, Glam by Asmita (GBA) is the place to go! Glam by Asmita, hidden away in a peaceful part of this frenetic metropolis, has just relocated to Gulshan 2 in a larger space to best service your requirements and provide you with a revitalising experience than ever before.
Enjoy The Aesthetic & Picturesque Interior In This Glam And Beauty Hub
When you stroll into the salon, you will feel as if you have entered a daydream. The pastel-based interior wails sweet and quirky, catering to a younger audience. The contrast of vivid conceptual art on walls with the subtlety of angelic feathery wings and lighter tones of fuchsia and pink palette creates some groovy Instagram and Facebook post-worthy spots.
Mayesha Asmita, obsessed with cosmetics since she was a youngster, initiated this establishment, which has been open since January 2022. Asmita pursued a degree in makeup artistry to bring power to her passion and make it a lifestyle choice. She is one of only a few MUAs in Bangladesh who has received CIBTAC certification from the UK government.
During her study at the Academy of Freelance Makeup, she worked with several international models and makeup artists at (AOFM). What began as an Instagram blog to promote her passion has become a popular salon in the city that offers some of the best services.
Glam by Asmita has something for everyone, with various specialised services and affordable packages.GMB offers hair colour, cosmetics, and a variety of exquisite facials, manicures, and pedicures. They provide insta brows and have just expanded their services to include lash, nail, and hair extension services. This is your one-stop beauty parlour for all of your requirements. To name a few, their GBA distinctive manicure and pedicure provide a memorable spa experience. Purple royal crystal jelly removes impurities, stimulates blood circulation, and soothes dry, cracked skin, making it the ultimate mani-pedi treatment.
The GBA Signature Facial is another highlight, combining diamond dermabrasion to brighten, de-tan, and deeply exfoliate the skin. They use a high-tech machine operated by licensed service providers to guarantee that all pores are cleansed from the inside out.
Glam by Asmita does not advocate the notion of making people seem fairer or changing their skin colour; instead, they focus on enhancing one's inherent beauty in the most excellent way possible. As a result, neither creamy polish nor bleach are employed in any of their skincare methods. The incredible selection of services and the staff's kind and inviting attitude make the overall experience worth repeating. From the minute you stroll into the grand entrance until you walk out, you will feel entirely taken care of – with the best dedication and respect.
When we asked this boss lady about her plans for Glam with Asmita, she said, " I want to take things step by step. First, I plan to conquer Dhaka and later expand to other cities in Bangladesh. After conquering Bangladesh, I plan to take Glam By Asmita on the international stage, compete with the best brands in the world, and make a mark for my country.'

Mayesha Asmita
Glam By Asmita | Beauty Salon
Location: 4th Floor, H: 4/A, R: 84, Gulshan-2
Facebook: https://www.facebook.com/GlamByAsmita
Instagram: https://www.instagram.com/glambyasmita/
Youtube: https://www.youtube.com/channel/UCb6X3aV1Of1Eu1e6DCFLvQg
Open 7 days a week from 11 am-8 pm
Stay tuned with us to read more about beauty and glam!
If you like this article, subscribe to our newsletter for more!