Brad Pitt is one of the greatest actors of all time in Hollywood. From the image of a sweet boy to a rough character, from mythic character to imaginary character, Brad Pitt has mastered all of his roles with his great acting skills. In this blog, we will write about the top 10 movies of Brad Pitt.
Disclaimer: This list is not created from any movie rating sites. This is our personal pick.
1.Fight Club
We are not supposed to talk about it but still for you guys we can break the rule of fight club (wink!). Jokes apart, this is one of the best movies from the Thriller and Mystery genre. This movie has so many memorable lines in the history of cinema. " The first rule of fight club is you do not talk about fight club" is arguably one of the most popular lines. Brad Pitt's character Tyler Durden in this movie was loved by all the critics. This movie has a philosophical point of view. With that dialogue, "Tomorrow will be the most beautiful day in Raymond K. Hessel's life. His breakfast will taste better than any breakfast you and I have ever tasted". David Fincher, the director of this movie, simply defined passion with this particular dialogue. There are countless number of thought provoking dialogues are there in this movie.
David Fincher and Brad Pitt, this duo is arguably the best actor-director duo after Martin Scorsese and Robert De Niro.
Fight club is our number 1 pick from this top 10 movies of Brad Pitt.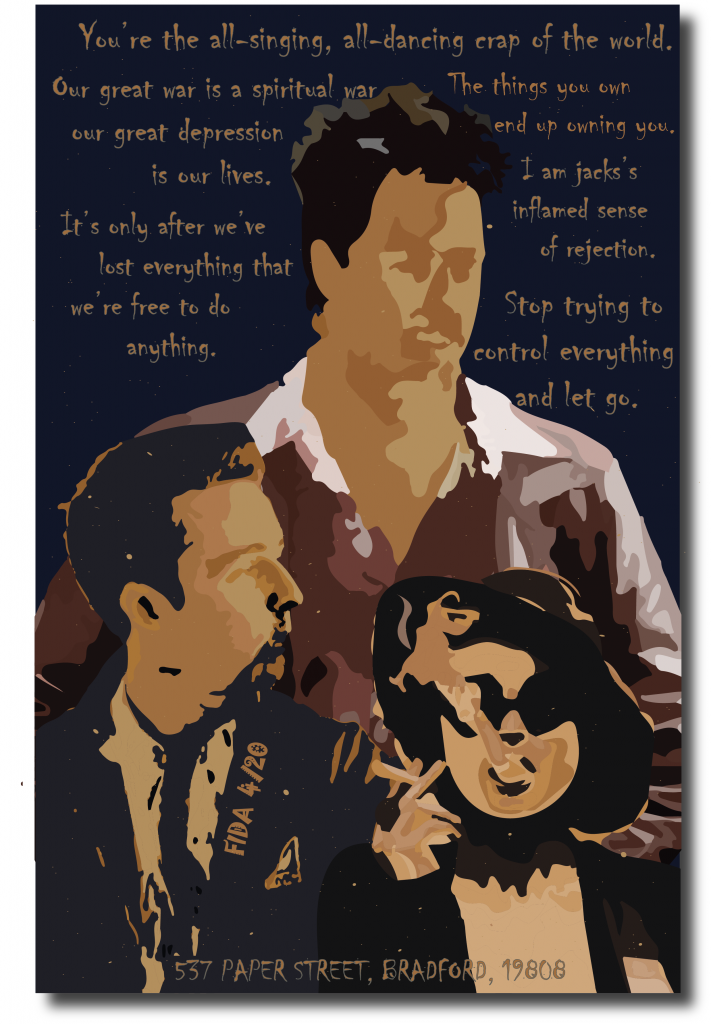 2.Se7en
Our second pick from this list is Se7en. Again this is directed by David Fincher. If you love to watch Mystery and Thriller then you should definitely watch this. Another reason to watch this is Morgan Freeman. Both, Morgan Freeman and Brad Pitt did their job brilliantly. This murder-mystery movie has a lot of details that the audience needs to observe closely. This movie will leave your head spinning and your heart pumping. According to the Christian religion, there are 7 sins that are not permissible – 1)Gluttony 2)Greed 3)Sloth 4)Envy 5)Wrath 6)Pride and 7)Lust. This movie is based on these seven sins and how one sin is interlinked with another.
Se7en starts with a murder and according to post-mortem, it was due to over-eating i.e. gluttony. Detective Sommerset a.k.a Morgan Freeman and Mills a.k.a Brad Pitt started to investigate the murder and the story goes on following another murder. The whole plot of the movie was synchronized nicely and it keeps the audience engaged in the movie.
This is a pure masterpiece of David Fincher.
3.The Legend of The Fall
One of the most underrated movies of Brad Pitt's career is this one. This is a quasi-western movie. The plot of the movie is a family isolated from normal life, three brothers love for the same woman and a stern father. All the scenes in this movie were greatly captured. Another reason to watch this one is veteran actor Sir Anthony Hopkins. His performance was brilliant in this movie.
4.The Assassination of Jesse James By the Coward Robert Ford
This movie has some of the greatest actors in Hollywood, They are Oscar award winner Casey Affleck (he was also nominated in Oscar for best supporting actor in this movie), another Oscar winner Sam Rockwell, Sam Shepard, Jeremy Renner, and many more. The cinematography of this movie is great. The plot of the movie was based on the old west. This movie is all about the historical biopic of Jesse James and his crimes, friendship, betrayal, and regret. That's why this is our 4th pic from the top 10 movies of Brad Pitt.
5.Twelve Monkeys
This is Brad Pitt's one of the most brilliant performances of all time. He was nominated for Oscar for this movie. This movie will have you reminisce the starting of the pandemic due to Covid-19. The main theme of this movie is the main actor (Bruce Wills) wants to save the earth from viruses by going to the past. In the past, he meets the character of Brad Pitt and his twelve monkeys gang. As much as we can go on for the day about the movie, we don't want to give you any spoilers. This is a must watch from this list.
6.Inglorious Basterds
This one is directed by Quentin Tarantino. Tarantino is one of the few directors whose almost every movie is on the Top 250 IMDB list. He took almost 10 years to write this one. Brad Pitt nailed his role as Lt. Aldo Raine. But truth be told, Christoph Waltz as Col. Hans Landa accentuated everyone in this movie. He got his first Oscar for this role. Inglorious Basterds was based on WWII and because of its unique story, bizarre violence, top-notch direction, it's in our top 10 movies of Brad Pitt.
7.Fury
Another movie of Brad Pitt based on WWII. Unlike most of the war based movies, this movie did not portray stereotypical family drama, emotion rather it focused on how a soldier underwent during a war, the mental state of a soldier, and the darker side of a war.
8.12 Years a Slave
Brad Pitt was not the main character in this but he had only a few screen time in this movie. This was from his production house and he won Oscar as a producer for this one. This one shows the earlier days of Black people and how they were treated in an inhuman way. It will make you realize what freedom is, the importance and value of it. This movie will make you appreciate the 'Black Lives Movement' (BLM). The legend Hans Zimmer was behind the music of this movie. For these reasons, it is in our Top 10 Brad Pitt movies.
This movie has some extreme brutal scenes. Viewer discretion is advised.
9.Troy
In our 9th pick, we have selected Troy. This is one of the best movies ever based on ancient kingdoms. This movie is based on Homer's Iliad and it shows the battle between Sparta and Troy. This movie will you goosebumps in many scenes and you will feel like you are watching 3200 years old troy city. Due to some twist in the facts in the movie, there are a large number of people against this one. But if you consider improvising then it's a must watch.
10.Once Upon A Time in Hollywood
Once upon a time in Hollywood is our last pick. Brad Pitt got his first Oscar for actor in a supporting role. This movie was directed by Quentin Tarantino and it has some of the greatest actors like Leonardo De Caprio, Al Pacino, Margot Robbie. This movie is a mix of fact and fiction. There are a lot of fiction going in this movie apart from facts. Before watching this movie, you need to have some basic ideas like who was Charles Mansion or who was Sharon Tate. There is also a scene from the classical movie 'The Great Escape' in this movie. So, you need to have these ideas to understand the movie better. If you have ideas in these, then you are definitely going to enjoy this one.
Apart from these Top 10 Brad Pitt movies, here are our honorable mentions: The Curious Case of Benjamin Button, Moneyball, Seven Years In Tibet, Mr & Mrs. Smith, Trees of Life.
You can also read The best Christmas movies to watch, because who doesn't love some christmas vibe?