DIY Jewelry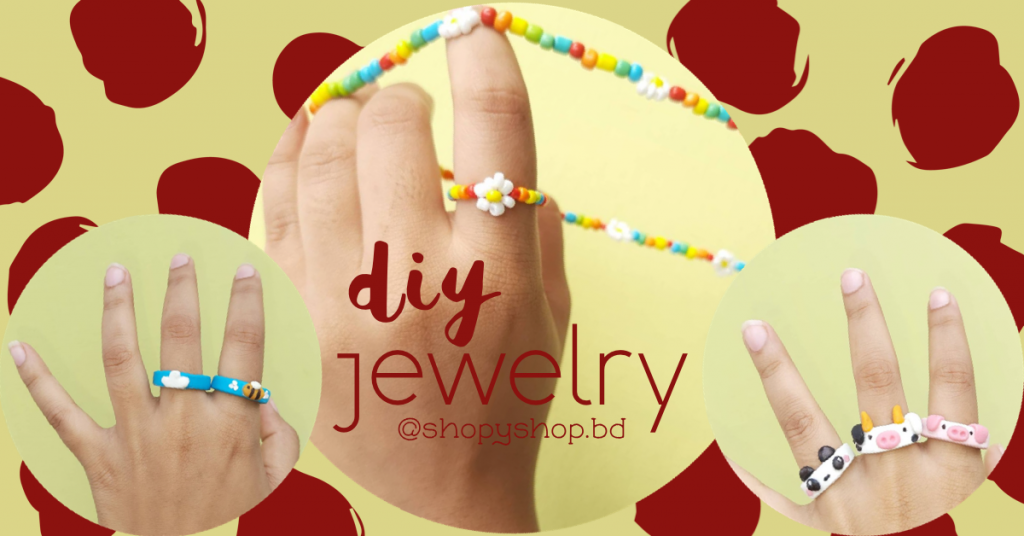 As its name suggests, DIY jewelry is any piece of jewelry that you make yourself. You can make jewelry out of almost anything – beads, resin, clay, metal, wool, sea shells and so on. As a kid growing up in the 00's, I remember being obsessed with DIY jewelry kits. These would come with beads, strings and hooks which you could use to make some really cute accessories. Charms were a big deal too; think of every sticker on Olivia Rodrigo's face on the cover of "Sour" but in the form of charms in bracelets and necklaces!
(We loved the album, btw. You can read our review out here!)
DIY Jewelry: Making A Comeback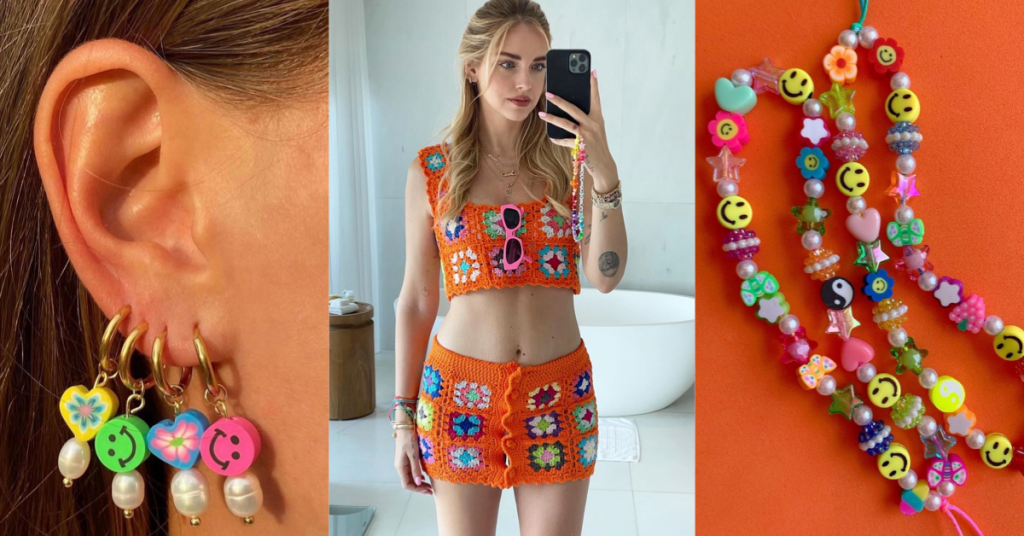 Let's face it; we've all been victims of throwing out old clothes to keep up with current trends, only for it to come back a decade later. For instance, think about slip dresses and graphic tees from the 90's or mini purses and lip gloss from the 00's. You've probably noticed a lot of these 00's trends making a comeback including DIY jewelry (beaded earrings, necklaces, bracelets etc), scrunchies, nameplate necklaces, headbands, tiny clips and, not to mention, the newest thing TikTok is making everyone buy, phone charms! DIY jewelry is often sported by celebrities like Gigi Hadid, Demi Lovato and Chiara Ferragni and so, the rest of us hopping on to this trend wagon too!
@shopyshop.bd
While a lot of high-end brands like Bottega Veneta and Balenciaga have their own versions of it, it might burn a hole in our pockets. Certainly, keeping up with the trend can be affordable because it really is something you can make yourself. Hence, this trend is called DIY jewelry trend or summer camp jewelry trend because most of us have made these when we were kids. This has brought out a lot of small businesses run by Gen Z, especially in Bangladesh and we've had the opportunity to talk to one such individual. Monira, the owner of @shoppyshop.bd, gladly shared her journey and gave us her two cents on DIY jewelry!
The Start:
Monira, 17, runs this business with her younger sister Nusrat, 14. Both have been studying at Rajuk Uttara Model College and decided to make and sell jewelry during quarantine. Monira isn't one to sit idly; she wanted to make more use of all the free time she had because of the lockdown. She was inspired by the clay jewelry she came across on Instagram and so, she started learning to make it herself. Wondering if she too could open a clay jewelry shop, she continued practicing. With support from everyone around her, she finally started her own small business making handmade DIY jewelry. Her handmade product line ranges from clay, beaded and crocheted earrings, bracelets, necklaces to plushies, keyrings and even hats!
When asked if she was always interested in DIY jewelry, here's what she had to say:
That's the spirit!
As a result of her creativity and effort, she gets as many as 30 orders every week! Above all, at just 17 years old, Monira was able to grow her business to 1.5k followers in 3 months. I honestly think it's remarkable!
Challenges + Solutions:
However, she admits it wasn't easy initially as she didn't have enough packing materials. Additionally, she faces certain challenges of running a small business as a student in the middle of a pandemic. For instance, sourcing is still quite challenging as it is difficult to find uncommon raw materials for her products. Additionally, it is really hard to balance work and studies, so she divides her time accordingly for classes, studying, product photography and making jewelry. She also finds it tough to get her products ready on time as she receives a large quantity of orders every week.
Despite the challenges, her determination keeps her going. I mean, otherwise, it wouldn't have been possible to grow so fast in such a short period of time! As her younger sister is also on board, it does take the load off a little as they share their responsibilities towards the business. I honestly think that it's incredible that Nusrat is getting first-hand experience through this venture because, even at just 14 years old, she's getting a head start in learning time management, craftsmanship and finding a work-life balance that works for her.
Product Line:
Monira's journey started from experimenting with clay, which she says was hard at first but easy and fun once you get the hang of it. The same is true with crocheting; even though it's a long process, she enjoys making crocheted plushies, keyrings, hats and earrings. She loves the beaded jewelry trend too. Even though it is tough to tidy it up afterwards, she enjoys the process.
Shop Now!
If you want to have some DIY jewelry in your collection, you should definitely browse through @shopyshop.bd's Instagram! For more handmade stuff, you can also check out:
@bloomingheathers
@merakibd
@flappy.clouds
@ankon_emporium
Be sure to subscribe to our newsletter for more!