Olivia Rodrigo is to Gen Z as Taylor Swift is to Millennial. The release of the 18 year old singer-songwriter's debut album "Sour" made the parallels more obvious. Rodrigo is a big fan of Swift's music and songwriting which she always mentions as her inspiration.
Swift wrote her best songs when she was a young adult going through relationships and making masterpieces out of them in the aftermath. That started almost 14 years ago, and she is still making award-winning music inspired by her personal life. Many musicians do so themselves the way Taylor Swift does it is too phenomenal to overlook. Olivia Rodrigo, it seems, is taking a page out of that book. ** we broke up a month ago/ your friends are mine/ you know I know** (Track #8: happier, "Sour")
The rollercoaster ride that is teenage heartbreak and the heightened feelings of entering adulthood; two contributors of the Big Feelings troupe.** all I ever wanted was to be enough for you** (Track #7: enough for you, "Sour"). I was not ready for this! Taylor Swift did her part in "Fearless" which moved the Millennial population from their emotional stance back then. Fast forward to 2021, Olivia Rodrigo has dropped some of the most relatable-pain-projecting songs. Gen Z-ers are loving it. And I'm living for it!
"Driver's license" was the first to be released from her debut album and it broke all records on streaming platforms; something very Taylor Swift-ish about this pattern. The song itself is a heartbreak anthem for all the one-sided lovers out there; just like Taylor Swift's "You Belong With Me". Mind you, with the release of this single the expectations for Rodrigo's future songs went up high and she delivered.
**and you're probably with that blonde girl/ who always made me doubt** (Track #3: driver's license, "Sour") If you know, you know.
Rodrigo's last relationship left her….sour? (totally explains the album name) Some people might think her songs indicate outrage towards the "other girl" for stealing her boyfriend. Hint, a certain blonde. But, listening to the songs it comes through; as how terribly the ex-boyfriend handled post breakup matters. Some of her songs play out three stages after ending a relationship: sad, denial and anger.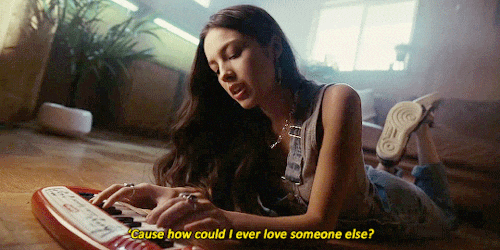 First, it was "driver's license" where there is a kind of yearning for lost connection. **I know we weren't perfect but I've never felt this way, for no one** (Track #3: driver's license, "Sour")
Then, "déjà vu" where she reminisces about her relationship. The singer denies to acknowledge that her ex-boyfriend is dating someone else, doing the things they used to do.**So when you gonna tell her? / that we did that too/ she thinks it's special, but it's all reused** (Track #5: deja vu, "Sour")
The track "déjà vu" has stirred up a lot of talk about how it resembles Swift's song-writing style to which Rodrigo mentioned that she was inspired by the bridge in Swift's "Cruel Summer".
The feeling of betrayal in "traitor" which builds up to anger in "good 4 u" made me angry about a relationship I never experienced.**it took you two weeks/ to go off and date her/ guess you didn't cheat/ but you're still a traitor** (Track #2: traitor, "Sour")
Ouch. Her lyrics are blunt and unapologetic- very Gen Z of her. Olivia Rodrigo expresses her teenage heartbreak in her songs like a story; something that we see very often in Taylor's songs. ** Maybe I'm too emotional/ your apathy's like a wound in salt** (Track #6: good 4 u, "Sour")
"Sour" is not an album all about heartache and spite despite the name. The diversity of the album is a masterpiece by a debut singer-songwriter of Rodrigo's caliber. In "brutal" the lyrics are edgy and candid, capturing a teenager's expressions. The track "hope ur ok" makes it sound like a hug, a sort of comfort and consolation for those who face adversities and need this kind of warmth. ** does she know how proud I am she was created/ with the courage to unlearn all of their hatred** (Track #11: hope ur ok, "Sour")
Chills. The praise accumulated for this album is definitely deserving. Each and every song compliments an emotion which makes it even more attention-grabbing. Is the album worth all this hype? YES. Check out this reaction video; I am not the only one excited!
Rodrigo declared herself as the biggest "Swiftie" and she has even established a friendship with her idol Taylor Swift. Here is the picture proof!
The song "1 step forward, 3 steps back" interpolates "New Year's Day" written by Taylor Swift and Jack Antonoff. ** and it's always 1 step forward and 3 steps back/ do you love me, want me, hate me/ boy, I don't understand** (Track #4: 1 step forward, 3 steps back, "Sour")
This is a special song in the album as it holds credits to Taylor and Jack for writing the original tune. Clearly, like the Swiftie that I am, the title of the track did catch my eye- just like many others'.
** and I hope you're okay** (Track #11: hope ur ok, "Sour")
No Olivia, we are not. Meanwhile, "Sour" might just be on replay throughout the rest of the year consequently accumulating every emotion on the spectrum.
Subscribe to our newsletter!