It's not just the aesthetic of flowers and greens that makes gardening delightful. The hobby is cathartic and makes a positive contribution to the environment; all the more reason to get your hands in the dirt, literally! So, order some gloves, a shovel, and some seeds as we walk you around the garden. 😉
Well-being? Check!
Gardening drags you out of the house and into the sun. The fine Vitamin D that is consumed in the process is great for your bones and immune system. Vitamin D is also effective for slowing down and preventing a range of cancers.
Gardening falls under the category of light or moderate exercise. The movement of muscles that results concurrently with gardening enhances strength, stamina, and hand dexterity. The larger your garden or the more time you spend caring for it, the more calories you burn (You'll get the best sleep after you've worn out from all the gardening).
Horticulture therapy (the author's favourite among many gardening benefits) is not a new concept. Its purpose is to elevate a person's well-being through involvement in plant-related activities. Nourishing a seed up until it grows into a plant and extending its longevity thereafter requires focus, commitment, and patience. It furnishes a sense of purpose and responsibility.  So, apparently(/evidently), gardening is a fruitful 😉 routine for finding mental clarity.
Save (and perhaps make) money
Try to think about why people get into the vegetable growing business in the first place: because a few dollars of investment in seeds and supplies can yield vegetables worth a whole lot more. So, you see, some gardening benefits are rather lucrative! We're not suggesting that you start a full-fledged business; even though you could totally be the neighbourhood farmer. But how convenient would it be if you could just go to your backyard instead of driving all the way to the supermarket to get vegetables? You'll save on fuel and the supermarket's margin on vegetables! Quite the deal, right? Making things even better, having your own garden means you know exactly how your vegetables were grown (i.e., whether it has harmful pesticides or preservatives in it) so you won't have to worry about the quality.
Creativity and décor
Gardening gives you a huge window to explore and express your wit, artistry, and craftsmanship. Picture what plants will look good together and plan a perfect layout, make bonsais, find or sculpt the perfect tubs and pots, make cool signs for your garden or come up with a completely bizarre way of using plants as home décor, all through this one hobby, gardening. Here's a fun tip: keep your kids around when you're gardening because kids have the largest creative horizons.
Could be a family thing!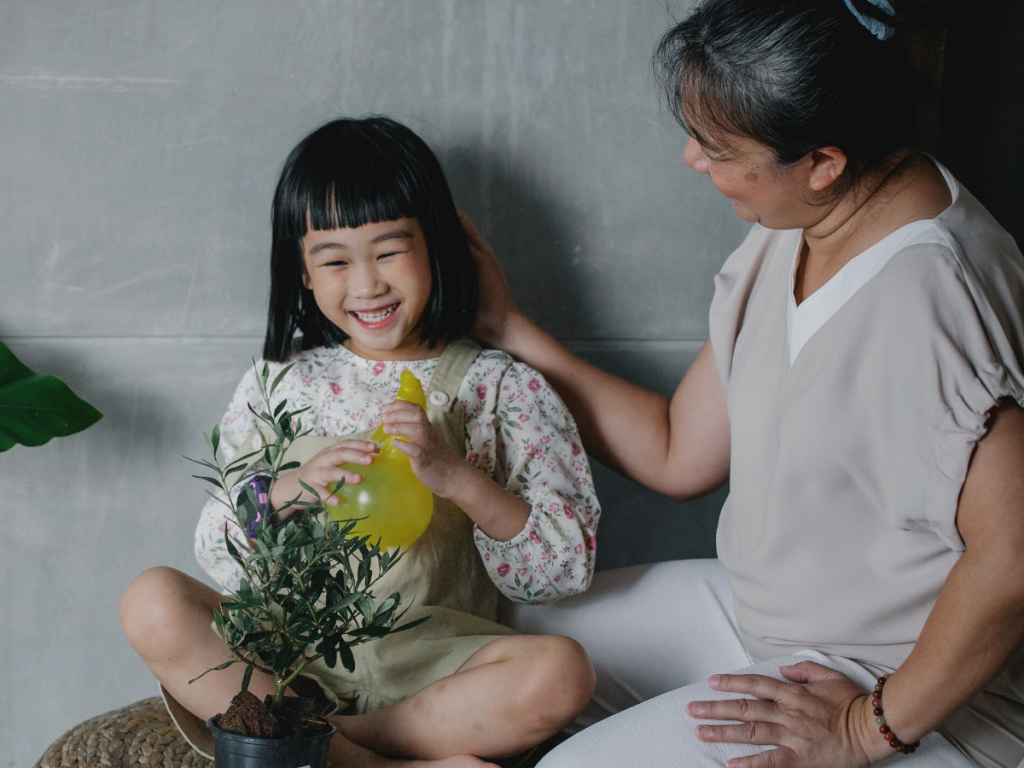 Tending for a garden can be a fun and stress-releasing outdoor activity that brings the members of a family together. It reflects that every member contributes to the well-being of a family. Teaching kids what happens when a plant is taken care of and what happens otherwise, is a good way of introducing them to the concepts of responsibility and accountability. Being are trusted with responsibilities can do wonders for a child's self-esteem. This only heightens when a child sees the results of their hard work in the health of their garden.
Build a community
Talking about common interests is a good way to start conversations. So, gardening might just be another outlet for increasing human interactions. This is actually one of the reasons why family gardens, school gardens, and community gardens are sprouting 😉 in every corner. The aim is to foster a cohesive community that brings together people of different backgrounds, abilities, and ages, and thusly expand who and what you know.
The obvious
Even though every bit counts, the impact of a community is much larger than that of just one person. Plants absorb carbon dioxide, so, the more people plant trees, the better it is for the environment. So, should you go as far as turning your yard into a small wildlife habitat? Yes! And encourage your neighbours to do the same!
Have fun harvesting 😉 these gardening benefits y'all! But don't forget to use biodegradable gardening gloves and boots!