As countries all across the world are mandating usage of facemasks, we took the opportunity and turned facemasks into a fashion statement.
The world has gotten into a new shape and form in the year 2020. Starting from our day to day lives, the economy, the medical system, even the fashion industry- COVID-19 has had its impact on all spheres of our lives worldwide. As we are awaiting a vaccine for the infectious disease, it is quite evident with research that masks can minimize the spread of the disease. In addition to this, to keep the proliferation in control, it has become mandatory to wear face masks in every public gathering.
Covid-19 has changed the fashion trends of 2020 and, now we have successfully added a new accessory to our wardrobe: FACEMASKS. Yes, you heard that right, face masks are now a fashion statement!
Face masks: The ultimate precaution for covid-19
Various studies have shown how face masks can reduce the transmission of COVID-19, even cut down the intensity of it. Face masks protect the one wearing it as well as other people around the wearer. In the earlier phase of the pandemic, there was no clear evidence regarding the effectiveness of facemasks. However, by June 2020, scientists and researchers were clear – that face masks could effectively work as a precaution for the disease. Indeed, SARS-COV-2 spread less in areas where people abide by the mask enforcement law. Consequentially, countries across the world started to enforce mask mandates.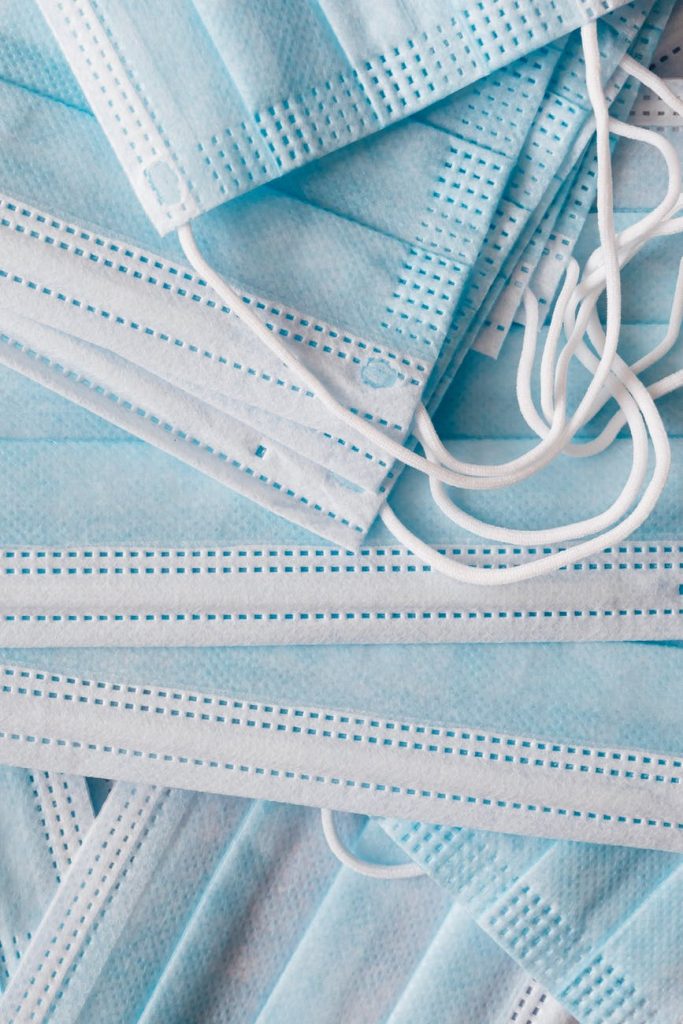 Initially, the N95 masks were said to be the standard mask to stop the transmission of COVID-19. On the contrary, the supply of the masks soon fell short of supply. That's when we came to realize that cotton and disposable masks can be used for the same cause in less COVID-prone areas. Along with that, doctors started suggesting the usage of cotton reusable and surgical disposable masks for people who are not directly in contact with COVID-19 patients.
General people started to opt for cotton masks, as they are breathable and moreover, they look fashionable aesthetically. Subsequently, fashion designs and fashion gurus all over the world thought to themselves, "why not make it fashion?"
Instructions to wear face masks
Before we jump into discussing how we have turned facemasks as a fashion statement that everyone is digging in 2020, let's first discuss a few points considering their correct usage:
Masks made with at least two layers of woven fabric (cotton or linen) are preferred.
The masks must allow easy breathing and fit your face securely.
Used and dirty masks need to be changed persistently.
We must dispose of the masks properly upon return from outside. Remember to wash reusable masks frequently.
Face Masks as a Fashion Statement
As we are learning to live our day-to-day life fighting the virus, face masks have become a handy accessory that everyone needs. Clearly, facemask is one of the most trending fashion statement of the year now. Starting from small local boutiques to legendary fashion brands, everyone is making masks matching with their outfits.Moreover, these face masks are different in colors, prints, even embroidery. World-famous luxury brands like Louis Vuitton, Gucci, Off White, and Burberry are retailing various ranges of fashionable face masks.
Remember the strawberry dress by Lirika Matoshi that is said to be the hottest summer dress of the year? Guess what? We now have washable strawberry facemasks to match the cutest dress of 2020.
It should be noted that humans are social beings. We can't stay in one place for too long. Besides, it is impossible to stay tucked in our houses months after months due to the outbreak of a pandemic. That is exactly when masks come into action. We wear masks to protect ourselves and the ones around us. In my opinion, it is absolutely revolutionary to turn a necessity like facemasks as a fashion statement.
Here are some brands creating the most fashionable facemasks of the year:
Lous Vuitton
The French fashion house, Louis Vuitton is known to everyone in the world for its wonderful collection of fashionable clothing and luxury goods. Louis Vuitton launched their protective gear to help people stay safe and trendy.
2. Collina Strada
Launched in Los Angeles by fashion designer Hillary Taymour, Collina Strada remains winning hearts of the audience by launching unique pieces of facemasks during the outbreak of coronavirus.
3. Off-white
Italian brand Off-white launched super chic solid colored facemasks, so people can fight corona fashionably!
4. Mother Denim
American brand Mother Denim launched some boho-styled, colorful, cotton reusable masks during the outbreak.
5. House of Masaba
The Indian brand, Houseofmasaba, famous for colorful graphic prints launched a bunch of fashion masks that matches with their chic outfits.
5. Dacca
The Bangladeshi brand, Dacca, has launched a variety of facemasks that exhibits the heritage of Bangladeshi culture with a twist of streetwear style.
On an end note, by looking at these brands, we can fathom that staying safe doesnt have to be boring. Undoubtedly, we can stay safe and make it fashion too.