We all know and love Ryan Reynolds as one of Hollywood's funniest men, who doesn't. We love him as Deadpool, his jokes, playfully trolling his wife Blake Lively, his "feud" with Hugh Jackman and what not. Besides flexing his acting chops, Reynolds also proved himself as a savvy marketer. This revelation began during Deadpool's press tour and continued with Reynolds' following films and business ventures. He uses his charm, wit and humor to make content marketing look like a walk in the park.
Deadpool
Reynolds spent almost 10 years trying to get Deadpool off the ground. When the film finally got greenlit, the budget was just $58 million (pretty low for a superhero film). Plus the film's R-Rating made it unconventional from other films in the genre. So there were concerns over its box office receipts despite Reynolds' star power. Later it turned out to be the highest grossing R-rated film at the time (only to be broken by the film's sequel 2 years later). Besides the film and the titular character's faithfulness to its Marvel comic counterpart, Reynolds' heavy involvement in production and marketing played a huge part in the success.
Reynolds collaborated with the then 20th Century Fox marketing chief Marc Weinstock to make content authentic to the Deadpool character. This included combining Deadpool's humor and foul-mouthed persona to make it feel like Deadpool himself was doing the campaign. Irreverent content was made for TV, social media and all available digital platforms. Reynolds also used his personal social media platforms to promote the content. Let's take a look at some.
The campaign kicked off as early as the official trailer release in December 2015. A YouTube video titled "12 days of Deadpool- Happy Holidays" dropped to build hype for the trailer alone. The studio dropped new Deadpool content on various sites each day, culminating in the final trailer's release on the 12th day.
A few weeks before Deadpool's release there were several billboards around the US with the texts " 💀 💩 L." It looks like a Gen-Z text message but it's actually an ad for Deadpool. This simple billboard ad turned out to be one of the most memorable stunts in Deadpool's marketing campaign.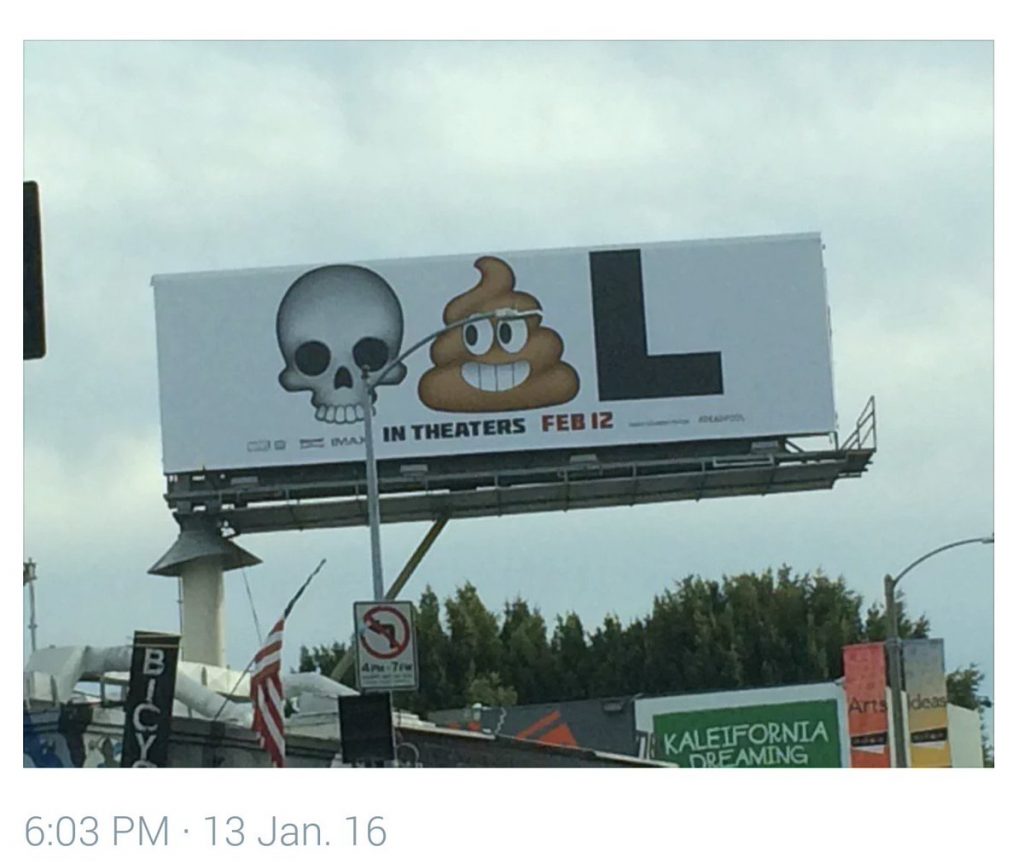 While promoting the film on Extra in April fool's day, the host Mario Lopez jokingly insisted the film won't succeed with the R-rating, only to get knocked off by "Deadpool." The video has almost 2 million views on YouTube.
Another clever way Deadpool connected to audiences was showing up on Tinder. Yes, Tinder! Some Tinder users looking for love found themselves matched with none other than Deadpool.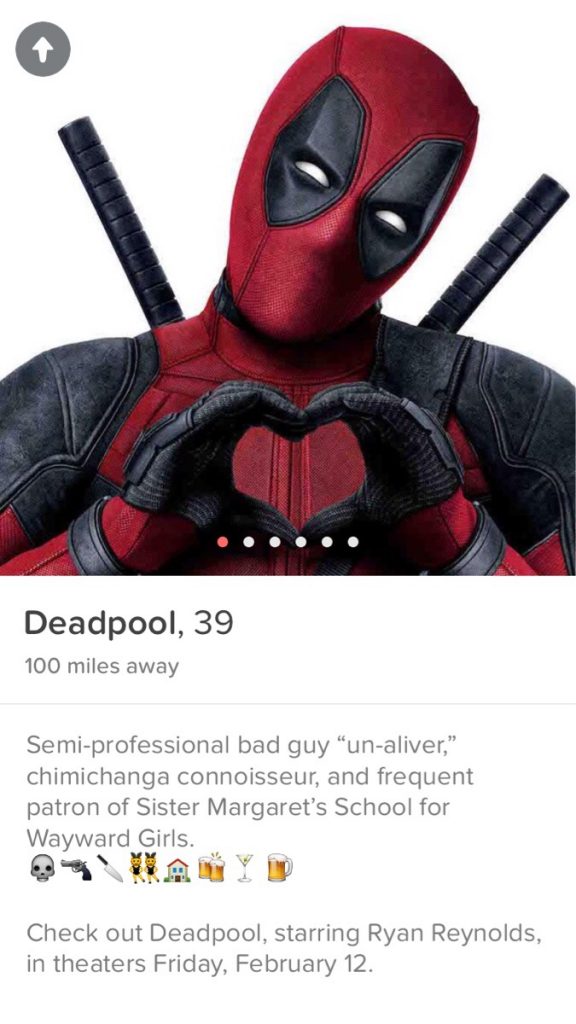 Since the movie released just in time for Valentine's day, Reynolds parodied (read- marketed) the film as a romance through a series of posters.

Another memorable campaign was Reynolds' online "feud" with Hugh Jackman. Shenanigans included Reynolds, in character as Deadpool, promoting Hugh Jackman for People Magazine's Sexiest Man Alive and Jackman responding by giving Reynolds the finger (read- claw) as Wolverine.
Aviation Gin
Aviation Gin is a gin brand which Reynolds acquired a significant stake of in 2018. He eventually became the brand's creative director and is the mastermind behind the brand's most hilarious ads. The commercial success of Deadpool 2 in 2018 led Reynolds establishing his ad agency, Maximum Effort productions. Aviation Gin is one of the agency's major clients.
In a YouTube video titled "The gift that doesn't give back," Reynolds made audiences look at the kind of ad people usually skip. The ad is a typical "here's how it's done" type, except Reynolds' comedic voice over makes it highly entertaining.
Reynolds also capitalized the 2019 Bottle Cap challenge trend for Aviation Gin. His video is one of the shortest but has 14 million YouTube views. This is primarily due to the task's execution. Check out the video below rather than looking for a spoiler.
Another ad titled "Dedication" uses Reynolds' classic deadpan style. This looks like a traditional TV ad of high production value. But Reynolds makes a claim so ridiculous that it's bound to grip viewers.
An entertainer at heart, Reynolds made corporate announcements feel like a comedy sketch. Check out this video of Virgin Atlantic announcing its partnership with Aviation Gin.
Reynolds also continued his faux feud with Hugh Jackman for promoting his alcohol. As part of a co-branding strategy with Jackman's coffee brand Laughing Man, Reynolds posted a video titled "Truce." Instead of making an ad of high production value, the two men just sat down and had a fun chat about their ventures.
One of Reynolds' most memorable marketing stunts was promoting his 2019 movie 6 Underground, Aviation Gin and film's studio Netflix, all under one Samsung TV ad. He starts by saying how big his movie 6 Underground is and Samsung TV is the best place to stream it. This was shortly interrupted by a mid-roll ad for Aviation Gin on the same TV playing his movie's trailer.
Key takeaways
You may think Ryan Reynolds' star power alone puts a lot of brand value in his business ventures. But celebrity endorsement isn't enough at all these days as Reynolds isn't the only A-list actor in Hollywood. Here are some takeaways aspiring marketers can follow.
Make sure your brand communication is at its most authentic in the campaigns. It gives the target market the belief that the brand is a lot more than just sales and profits.
Don't dismiss conventional mediums if you have creative ideas cooking in your brain.
While it's important to show what your brand does, you also have to make sure you're not monotonous. There's no harm in making viewers laugh and inform them about your brand at the same time.
If you feel like you have a sense of humor and are also passionate about content marketing, use that humor to your advantage. This is the same as evoking emotion. You can baffle your audiences and they keep talking about your brand.
Try to have a hands-on approach towards your brand. Make everyone interacting with the brand know you're behind it.
Capitalizing on trending topics may be an easy way to grab attention but make sure you stand out in good taste and while the topic is in vogue.
Don't rely too much on celebrity endorsements. It may give brand reach but does little to boost sales.
If you're lucky enough to find someone who legitimately cares about representing your brand, empower them. They can be among your team members or even top customers. If the sentiment is real, it'll show.
Try breaking norms and doing something no other brand can even think of doing. But make sure it ultimately comes to your brand's favor.
20th Century Fox didn't spend too much on promoting Deadpool. But the film's marketing campaign is regarded as one of the best in film history and it's greatly attributed to Ryan Reynolds. He's proof that you don't necessarily need a marketing degree to be a savvy marketer. If you're creative, you're already two steps ahead.