Chocolates are not all bad, there are some surprising health benefits of chocolates unknown to many! If you're looking for an excuse to eat some chocolates and not feel guilty, this is the sign.
Every year World Chocolate Day is observed on 7th July by indulging in the creation of chocolate. Your favourite restaurant probably has this day marked and kept some fancy and delicious chocolate dessert on the special menu! You can have a quiet night in and try out some homemade chocolate snacks, treat yourself and your friends to a box of chocolates and a good movie. Whichever you do, have fun knowing your chocolate desires!
Eating chocolates has become more of a guilty pleasure as we grew up because now we truly understand the benefits and demerits of having (too) much chocolate. What's a little snaccident once in a while?
Types of Chocolates
Unsweetened cooking chocolate– This is the type of chocolate that's mainly used in cooking or baking. It contains a high amount of cocoa and little to no sugar; this can also be called Dark chocolate.
Milk chocolate– This chocolate is most commonly found. Milk chocolate contains milk in different forms, cocoa and sugar. It has higher sugar content than cocoa solids.
White chocolate– Contains cocoa butter, milk and sugar but no actual cocoa content. Hence the colour is also milky white.
Vegan chocolate– Chocolate is a plant based food (cacao seeds). Hence, it's vegan before any dairy or other ingredients are added to it. Dark chocolate is the choice for vegan chocolate lovers.
Health Benefits of Chocolate
Chocolate is good for the heart, and not just because it cures the Big Sad or pleases the Sweet Tooth. Scientifically it is proven that it can boost your heart functions.
The Bitter Truth of Dark Chocolates
Dark chocolates are the most beneficial among chocolates. They have a quite reliable list of benefits ranging from improving immunity, improving brain functions, reducing heart disease risks, protection of skin from the sun and much more still being discovered by scientists.
The Remedy for Sad Souls
Whenever we are sad spicy and sweet foods both elevate our moods. Why? For spicy food, the chemical which makes it "spicy" is capsaicin. This triggers the release of "happy chemicals" in our body and gives the head-to-toe feel of pleasure. As for sweet food, like chocolates, the neurochemical dopamine is released in our brains which gives us the feel-good feeling. If you want to follow some self care routines and keep chocolates as company, read a book from this great collection of Classic Books to Read for Adults.
The Vital Vegan Chocolate
Processed chocolate bars or chocolate dishes have a variety of non-vegan ingredients in them. Vegans came up with vegan chocolate foods (there is also vegan chicken if you wanna check that out). This alternative is healthy; it avoids the processed ingredients and opts for more plant based ingredients.
To Defend Against Dementors
A low effort Harry Potter reference. Professor Lupin gave Harry a piece of chocolate after his first encounter with a Dementor on the train. It was later on that Lupin explained the remedy for the chill that dementors give (when coming in contact with them) is to restore the warmth. The remedy being, you guessed it, CHOCOLATE. So, on a cold and chilly night, warm yourself up with some good hearty chocolates.
Quick and Easy Chocolate Recipes
These recipes are all modified versions of original recipes. I tried finding some alternative ingredients that are commonly found in the kitchen, without really having to step out and buy any of these. All you will need is a freezer, a microwave oven and a food blender as the hardware used in these recipes.
Chocolate Banana Mug Cake:
Mugs can be for food too! Make a mix of your favorite cake batter and pop it in a mug. You get an instant cake within a few minutes!
Ingredients-
Cocoa powder 2tbsp
Flour 3 tbsp
Milk 3tbsp
Sugar 2tsp (optional), alternative is Honey 2tsp
Banana, smashed
Peanut Butter 2tsp (optional)
Egg 1
Process-
In a mug, smash the banana using a fork.
Add the egg and milk, stir and mix. Then, include sugar or honey (a good alternative)
Add the flour and cocoa powder one at a time and mix.
Drop the peanut butter into the mixture or you can add as topping.
Pop the mug into the microwave oven for 1 minute. Depending on different power of microwave ovens, increase to 2 minutes.
Use a cake tester to check the cake. Or, drive a fork or knife through the mug cake to check its consistency.
Enjoy the mug cake with peanut butter topping or eat it as it is straight outta the mug!
Frozen Banana Chocolate Bites:
Bananas have always been a healthy food choice, and the easiest ones too. So why not make it yummy as well?
Ingredients-
Bananas, sliced
Dark chocolate, melted
Coconut, shredded (optional)
Peanut butter (optional)
Almonds or walnuts, finely chopped (optional)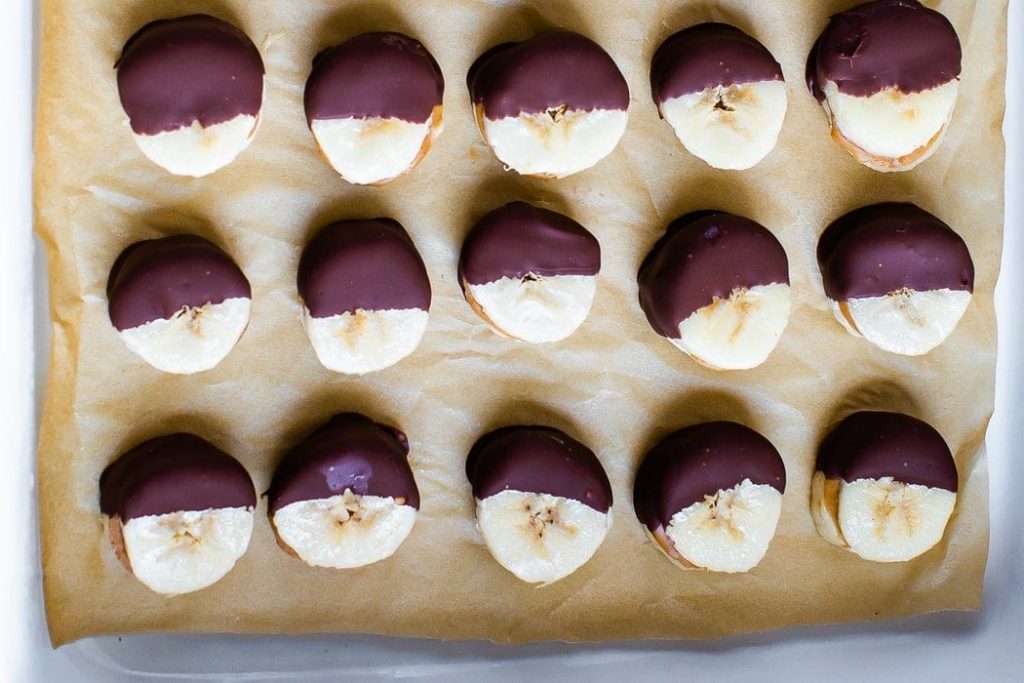 Process-
Peel bananas (as many as you like) and slice them (laterally) to make circular pieces.
Use a bowl to melt the dark chocolate pieces and don't let it cool off
Dip the banana pieces in the chocolate and set them on a separate plate
Roll the chocolate dipped banana pieces in shredded coconut or finely chopped almonds or walnuts
You can sandwich two slices of banana and put peanut butter in between.
Put the chocolate dipped banana pieces in the freezer for 2 to 3 hours, as long as the chocolate is not runny.
Enjoy bite size snacks any time!
Superfood Vegan Brownies:
This one is from Ambitious Kitchen, they have a collection of nutritious and delicious recipes you need to try out!
Ingredients-
Dates ½ cup, chopped
Dark chocolate, 100g (approx)
Biscuits, unflavoured , 5-8 pieces (optional)
Walnuts ½ cup, chopped. ¼ cup for garnish
Almonds ½ cup chopped. ¼ cup for garnish
Cocoa powder 3tbsp
Chia seeds 1 tbsp
Coconut ¼ cup, shredded
Virgin Coconut oil (edible) 1tbsp
Vanilla essence 1tsp
Warm water, if needed according to measure
Process-
Add the dates, almonds, walnuts and biscuits into the food processor. Blend until well incorporated, but not too fine grain.
Add the chia seeds, shredded coconut, cocoa powder, coconut oil and vanilla. Blend until chunky and sticks just a little bit. If dry, add warm water and blend again.
Take out the mix into a bowl and add the chopped dates.
Mix well, it should be a little sticky and not falling apart.
Set the mixture into a mold or a ceramic dish (2 inches deep at least). Press down and pat gently to make even surface.
Melt the dark chocolate in a bowl and pour over the mixture in the dish.
Garnish with walnuts and almonds. If you have assorted nuts at home, lightly roast those and add as garnish.
Set aside in the freezer or in normal (cool) room temperature for a few hours
Cut into slices and enjoy!
Try out these recipes whenever you have the munchies! It will be both a healthy and happy experience as you dont have to do much, but you get a new snack too. Let us know how you like your chocolates- dark or sweet?