Fashion styles trending this Eid-ul Adha for the ladies. Adorn yourselves in fashionable and comfortable attire this Eid-ul-Adha. Let's take a look at the trending fashion styles which will make your Eid outfits unique, glamorous and help you survive the heat too!
Due to the Covid Lockdown situation coming down hard on businesses, the garments industry has suffered a loss. Despite that there are some amazing collections for Eid from many brand outlets. Physically visiting stores have decreased as everything is based on Online Shopping now. All stores have the option to buy the Eid collections online. So fear not, stay home and browse through some of the most trendy and beautiful collections on your phone or computer.
Yes ladies, every Eid is a new chance to flaunt some colours and patterns and keep it fresh. Even though it's always 2 months apart (crying laugh emoji) we are always excited for the Eid collections.
Traditional Kameez
A kameez set never goes wrong, It's an evergreen choice and will always remain as the go to fashion for Eid settings.
Pastels
It's summertime, so heat and discomfort are coming hand in hand. Choose a collection of beautiful pale, soft colours for daytime outings.
Choose bright and dark colours for evening outings. Eid gatherings for dinner parties are full of laughter and cheer which makes the bright colours best suited for these.

Material and Design
There are so many materials out there now and each has its own glamour. Organza, chiffon, embroidered lawn, khaadi, silk and many more! Moreover, the detailed work on the panels and neckline add more razzle dazzle to your outfit. Look out for intricate zardozi work on your kameez choices.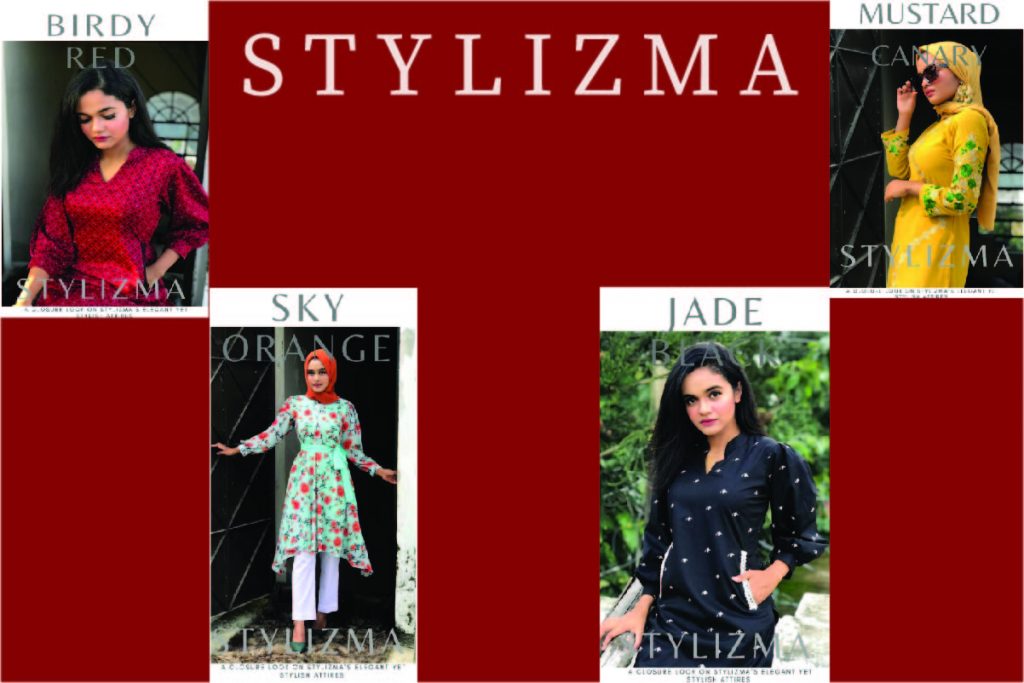 Opt for a material that is comfortable to you and your fashion style. Eid-Ul-Adha has been occurring around the summertime for quite a few years now so we need to stay breezy through the heat!
Belts
A long kameez with the dupatta being held at the waist with a belt. Absolutely stunning style. It makes the look very put together and gives that elegant vibe.
Sleeves
Sleeve trends dipsy-doodles its way with the style of the overall kameez suit. Larger, loose sleeves are in. They look comfortable and goes well with simple cut kameez. Can't really go wrong with big sleeves. There are some other fashionable sleeve styles worth a second look at. The puffed sleeves, cuffed sleeves, ruffled sleeves and so on.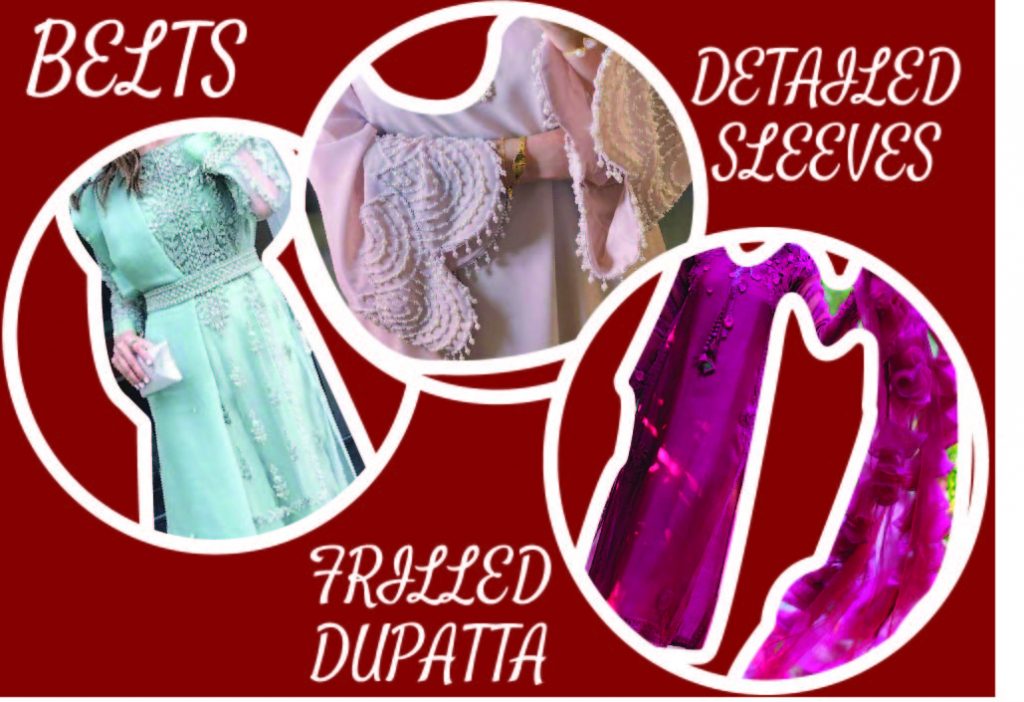 Frilled Dupatta
The newest trend in fashion will have to be the ruffled or frilled dupatta. The style is new and it is definitely eyecatching. It makes the whole kameez look more glamorous and fun. A statement dupatta is always so easy to pull off. The materials can be muslin or net; these materials give a bouncy look to the dupatta which is exactly the style you're going for.
Wrap Top and Pant
This is definitely my favourite so far. The Wrap top and pant set which is such an easy and effortless look for this Eid. Some of the boutique pages have really brought out gorgeous designs which compliment this style.
Kaftans this Qurbani
Amidst the heat and humidity, we all want to look our best but feel comfortable as well. Kaftans provide the best style in this case. There are a range of styles of kaftans- the square cut, asymmetrical cut and rounded cut. Shop this easy and fabulous kaftan looks for your casual outing on Eid or its the perfect outfit when you have a close group gathering at home.
Tie-Dye Prints
Tie-dyes have been around since the 1940's mainly in the western clothing cultures. But incorporating the Tie-Dye print into traditional wear took this fashion to the next level indeed. The tie-dyed kameez or Kurta make basic boho look which goes so well with the summer vibes. Colour complimenting of bright tones like orange and green, pink and blue and so on has made these tie-dyes make the best comeback into the fashion trends. Pair up a tie-dye look with some clay jewellery and leather flats.
Local Boutiques Win our Hearts for Eid-Ul-Adha
Fashion has two necessities; making you look fabulous and making you feel fabulous. The perfect combination is an outfit that suits your style and also makes you feel comfortable. Nothing else outside this pair will ever come into consideration. Local Boutiques have taken the lead with this strategy and brought some of the best collections to customers. Who else would understand the needs and persona of a tradition than your own people? These Bangladeshi online boutiques have completely won over the hearts of many with their glamorous and aesthetic dresses. Yes, some of them are imported kameez sets, but there are also some boutique owners who have taken matters into their own hands. They customize the orders and use their own designs; which makes the purchase even more memorable.
This wonderful shopping and retail page takes the customer's exact measurements and sends the ready-made clothes to you! Everything will always fit you perfectly and of course the designs are done by the owners themselves. They keep unique designs for each of their outfits, the patterns and colors are also something that will not be so commonly found. So fear not, your outfit will not be the exact replica of anyone else's. This one attribute of Stylizma makes them such a favored and loved brand. All the outfits are tailored to the customer's measurements, and this makes it the perfect fitting and provides ultimate comfort. They're local owners and they make trends happen on a daily basis! Check out their newest collections before they're sold out!
A raging name in the imported Pakistani luxury lawn, organza or chiffon kameez sets.There's different embroideries, panels for the front or the daman, sleeve embroidery and whatnot! They have set up shop as well as selling online. Their collection is very attractive, they keep the best quality as well as engage in a friendly manner with the customers. They keep some of the most trending Pakistani fashion in their updated collections from Aghanoor, Adan's Libas, Tawakkal and many more. As for the Eid Collection '21, the kameez are absolutely mind blowing! You'll want to grab them while they're available.
If you're looking for kameez that have small details and gorgeous neckline designs then Saba's Closet has some great outfits. The colour palette for some of their collections this Eid '21 is absolutely breathtaking. The soft lavender and silver zardozi works on one of their pieces really makes me want to buy the same clothing in all pastels!

There's many more desi boutiques which have amazing Eid-Ul-Adha Collections this summer. They are definitely winning our hearts with their unique and gorgeous designs. Every festival is celebrated with outfits from these super amazing clothing brands.
Accessorize your Fits!
What's an outfit without the perfect accessories? Add more glamour to your look by adorning some big earrings that go well with traditional wear, put on a necklace to highlight the neckline more and get a pair of shoes to strut your confidence. Here are some trending accessories that can be helpful to add to your collection. Also, why not try out making your own jewelry? DIY Jewelry: The Latest Trend to Make a Comeback
Chunky Earrings
Pairing up your colorful kameez with an equally gorgeous Jhumka will give your outfit that extra razzle dazzle. Kundan earrings or Gajra earrings are very gorgeous as well. They might be a little heavy on the ears but if you find the perfect ones that don't hurt your earlobes then you've got yourself perfectly accessorized.
Clay jewelry
Clay has been trending in recent days. There has been much talk about the colourful varieties of clay jewellery. Sunflower designs or quartz patterns mimicking ocean waves are very eye-catching and look great with a simple outfit. There's matching sets for earrings and chokers or necklaces. Some pages can also do your requests if the designs seem to be more in demand.
Asymmetrical Earrings-
The first thought would be a bit uneasy, but once you see how easy this looks on the eyes, there is no going back. Asymmetrical earrings like the ones in the collection of Ray by Laiju named "High-Low Pearl Bar" earrings are minimalist and elegant. If you like simple jewelry this is a great page to buy from. They keep their collections in trend with the fashion styles and provide great feedback as well.
Handbags
Eid outings mean having a few of your makeup touch-up products with you on the go. Carry a fashionable purse or a shoulder bag that compliments your outfit and looks a bit unique too. The box purse or clutches from Sharollo are making a noticeable appearance in trends again.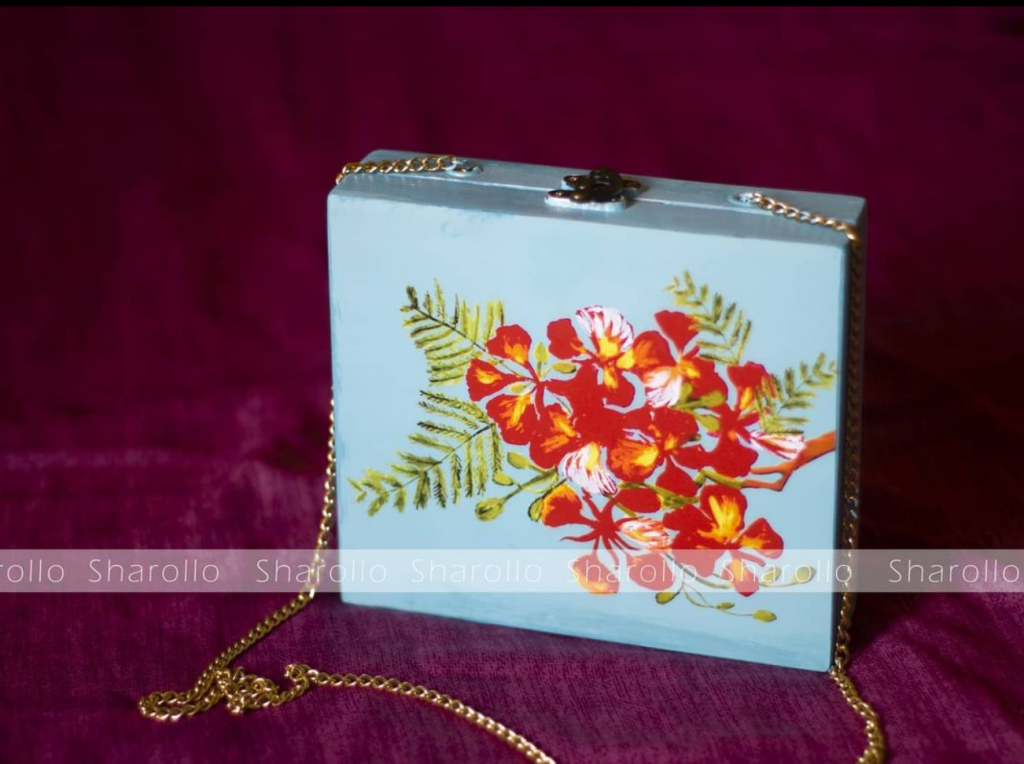 Footwear
The look is only complete when you have your magical pair of shoes on. To give yourself ultimate comfortable footwear try on the heels or flats whatever you like the days before Eid! Trying on new pairs of heels might give you bad blisters if you also walk around a lot in those. So buy your footwear beforehand and maybe get comfortable in them before D-Day.
Some exquisite collections of flats and heels are very appreciated from Lá Mode. Their online services are very trustworthy and they also have 4 location shops around Dhaka. Their collections have their own names. For monsoon season, they dropped a few new pieces by the names of Talia, Amaryllis, Amaai and Stormy. The most desirable ones this Eid-Ul-Adhda are Fiora, Novah, Maia and a few more!
Masks
Let's not forget, we are still in the trenches with lockdown due to Covid. If you are going out or in a gathering with family and friends, don't leave the house without a mask. You can find masks that match your outfits and are easy to wear from Zakia's Collection.
This Eid-Ul-Adha, celebrate with the most trending looks and keep your outfits as colourful as your lives. Don't be disheartened by the quarantine, dress up and take your family to the rooftops to click cute family pictures. Maintain safe hygiene and meet friends for a short while indoors and celebrate with food and festivities. Happy Eid Mubarak!