Valentine's Day amidst the pandemic, as if Valentine's Day alone, wasn't controversial enough.
Your lover plays the uke but their heart plays the 'you', so go get them that packet of cashews because aren't you nuts about them too? But please, wear masks while you're at it, or even better, just have it delivered!
Just so you know, …
All of us need love and it's okay to celebrate it.
If you don't want to, you don't have to celebrate Valentine's Day just because you're in a relationship. Advertisements and peer pressure shouldn't determine the kind and amount of effort you put in for your significant other.
Romance is not the only form of love and it's most likely that all of us have experienced some kind of love throughout our lives. You get to celebrate all kinds of love that you've experienced. It doesn't matter if you're single, no one gets to tell you whether or not you get to be happy on Valentine's Day. (I'm gonna go acknowledge my own strength of functioning on a lengthy Instagram post because #selfloveisimportant and surviving 2020 was no piece of cake.)
Love is in the air, and so is Coronavirus.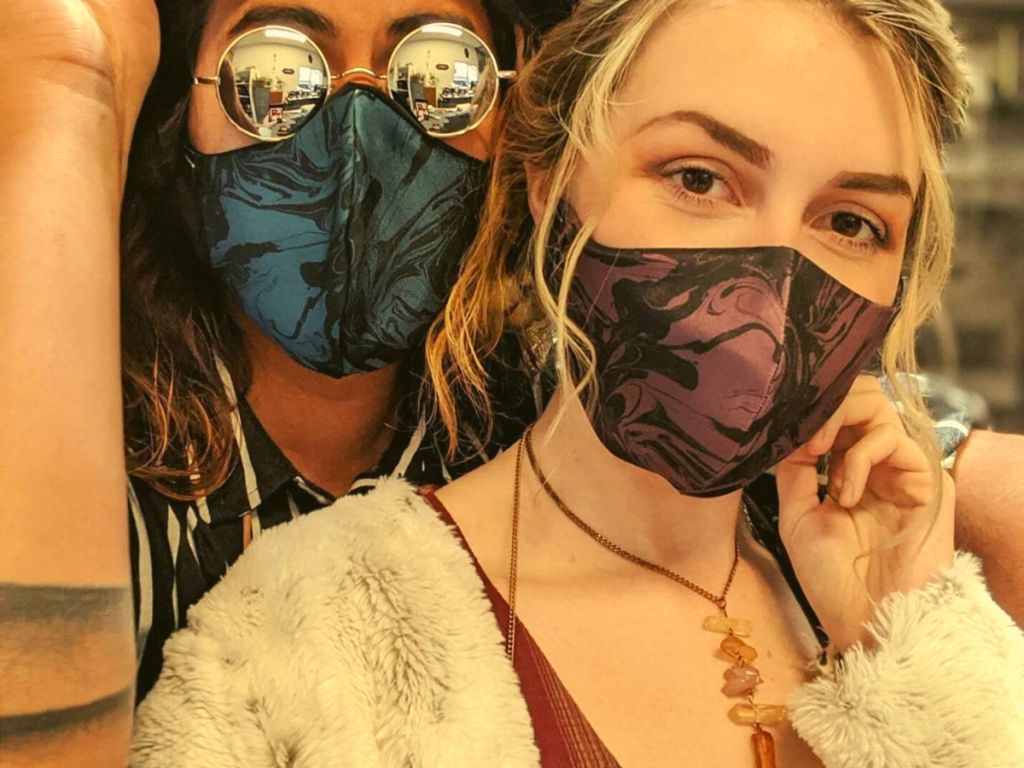 Even though we absolutely don't encourage it, we understand where the desperation to go out on Valentine's Day comes from. If you do decide to step out of the house, here are some ways you can give your safety measures a touch of romance.
Wear matching/complementing masks and take up a notch at 'looking good together'; 'good' in your own definition of course.
Use scented sanitisers before your other half proceeds to kiss your hand and give them the thrill of running through lavender fields.
Spray scented disinfectant on the restaurant table, movie seats and every object you come in contact with on your day out, it makes a good substitute for fragranced candles.
Bonus: All of the above make really good time-relevant Valentine's gifts!
Happiness Deliverooed!
Imagine opening your door to your favourite food that you didn't order; I don't know about you but I would have teared up in joy and prayed for the soul that had it sent over! You can gift this very experience to your loved ones on this coming Valentine's Day. All you have to do is change your location on Foodpanda, Deliveroo, or UberEats from your residence to your loved one's and change your payment method from cash to card.
Send a Personalized gift!
Just like food, you can have gifts delivered to your loved one's doorsteps with the help of mailing services, these services have stepped up their game especially amidst the pandemic; Pathao delivers within a day! To brighten things up a little, send them something that has a touch of you in it, perhaps a letter along with a book, something hand-made, or something personalized especially for your other half. If your loved one lives a bit too far away, perplex your lover with a little help from FedEx; have your gift couriered! And if you have an extremely busy schedule, you can talk to e-commerce businesses on eBay, Amazon and even Facebook, and the selling business will take care of the rest for your Valentine's surprise.
Let's Teleparty!
Can't go to the perfect movie date on Valentine's Day amidst the pandemic? You can still do it without jeopardizing your health! Teleparty, formerly known as Netflix Party, lets you watch TV with your friends online by synchronizing video playback on Netflix, Disney, Hulu and HBO. It also adds a group chat to the OTT and that's where the party, or date, gets started!
Love for one, love for all.
Staying in and just saying 'I love you' one extra time is celebration enough because true love resides in the heart. While we have the luxury to think about Valentine's Day amidst the pandemic, there are several thousands of people struggling to survive it. This Valentine's Day, we urge you to share your love with the people who are more in need of it than we are. Several organizations are collecting funds for Covid support and relief, one such organization is the World Health Organization (WHO). You can donate to the COVID-Solidarity Response Fund for WHO at www.COVID19ResponseFund.org.